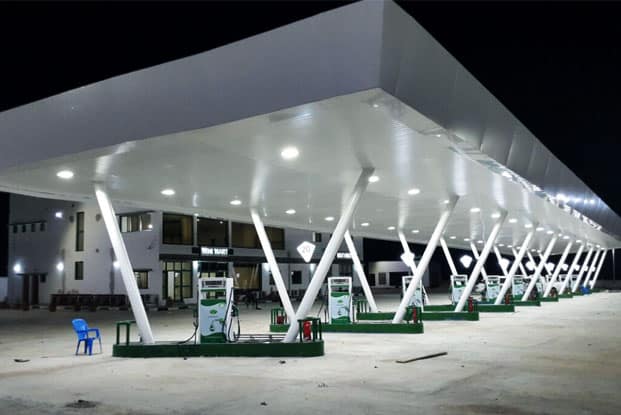 LED Gas Station Canopy Lights For Gas Stations In Nigeria
The LED gas station canopy lights project was completed in Nigeria in 2015. H-Series LED gas station lights with ATEX certification were used. LED gas station canopy lights are specialized lighting fixtures designed to illuminate the canopy area above the pumps at gas stations. Adequate filling station lighting is essential to ensure the safety of filling station customers and staff, especially during night-time operations. Brightly lit canopy areas help prevent accidents, improve driver visibility, and deter criminal activity.
Client Feedback In This Project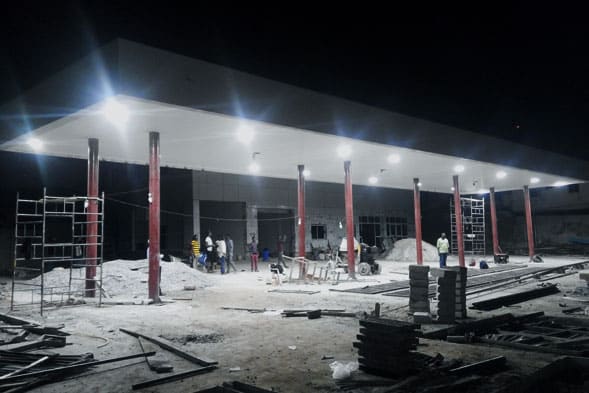 The Problem
In response to government calls, new gas stations need LED lighting products to replace traditional gas station lighting.
Gas stations are flammable and explosive locations, and using ordinary light fixtures can cause fires or explosions that can endanger the lives and property of employees and customers.
Gas station lights need to be anti-glare to create a more pleasant experience for customers while reducing light pollution.
The Solutions
When customers inquired about gas station lighting products, we recommended the H-Series LED gas station canopy light from ZGSM, which is a type of modular LED light designed to facilitate the installation and maintenance of the fixture for customers. After the lighting simulation design, the whole gas station needs 50pcs 80W LED gas station lights, this explosion-proof gas station light adopts a special explosion-proof design, which reduces the risk of fire and explosion that will occur if it is used in a flammable and explosive place, and provides a higher level of safety.

The lamps are recessed mounted and integrated with the roof area of the gas station. The reasonable arrangement of the lights and the uniformity of illumination allow the gas station to maintain a high level of traffic even at night. For the parking lot outside the gas station, the customer chose H series LED streetlights, also manufactured by ZGSM, with the same quality to upgrade the parking lot lighting.
project Details
| | | | |
| --- | --- | --- | --- |
| Product | Model | CCT/ Optics | Quantity |
| 80w LED Gas Station Canopy Lights | ZGSM-QD80H | 5700k, 110degrees | 50pcs |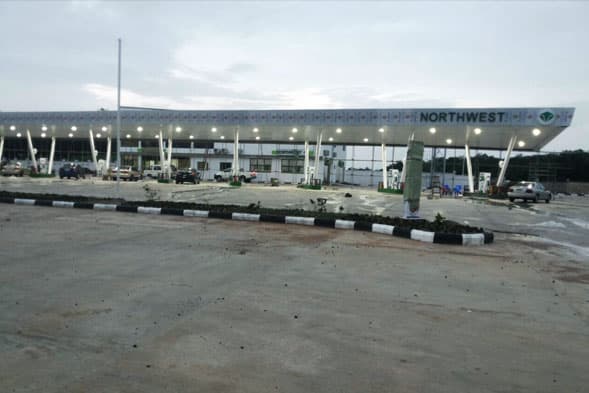 The Result
Because the project used LED gas station canopy lights, it responded to the government's call for energy saving and emission reduction, and the client received an award from the government. The light not only brought a quality lighting experience to the client but also enhanced its visibility because of the government's award. Because of the success of this project, the customer said that if there are other project needs, they will choose to continue to cooperate with ZGSM.
ZGSM offers comprehensive lighting solutions
For various scenarios including street lighting, urban lighting, highway lighting, parking lot lighting, stadium lighting, sports lighting, factory lighting, warehouse lighting, gas station lighting, and tunnel lighting. Our solutions are designed to provide efficient and reliable illumination, enhancing safety and visibility in these environments.
Frequently Asked Questions
We know you might have more questions, so here's a list of the questions we get asked the most about LED Gas Station Canopy Lights.
Contact Us Right Now!
*Your privacy is respected, and all information is secure.