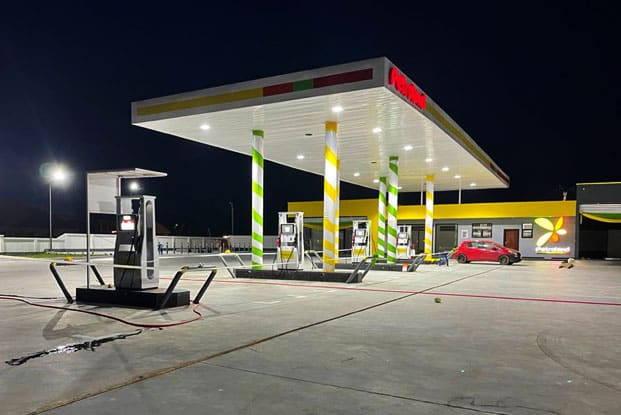 Canopy LED Lights For Gas Station Lighting In Ghana
Ghana canopy LED lights for gas station lighting project, completed in 2021, Canopy LED lights are a type of lighting fixture designed specifically for outdoor applications and are typically used in gas stations, parking lots, and other areas with canopies or overhangs. They are characterized by their shape (usually flat or rectangular) and their ability to provide even and bright illumination. Canopy LED lights are customizable in size, color temperature, and wattage, allowing for design and application flexibility. They can be customized to fit different canopy configurations and provide optimal lighting solutions.
Client Feedback In This Project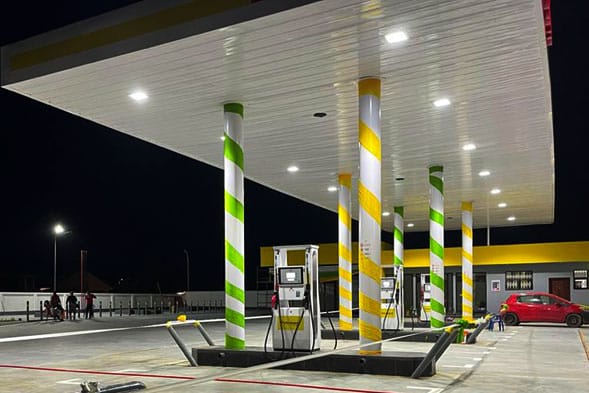 The Problem
The conventional lighting previously used was very dim due to severe light decay.
The gas station's traditional canopy lighting system could pose a safety risk due to the presence of flammable gases and vapors. Without adequate protection against these hazardous environments, they can ignite or cause explosions.
Traditional canopy lights typically consume excessive amounts of energy, resulting in high operating costs for gas stations.
The Solutions
After giving our client a free lighting simulation design, we recommended the Primo series of LED recessed lights. We designed the recessed gas station lights with explosion protection in mind, and the products are ATEX certified for explosion protection, making it safer for you to use the products. The Primo series LED recessed gas station lights are available in a variety of mounting styles to meet different installation environments.

The new canopy LED lights provide superior lighting quality, ensuring optimum visibility for customers and employees. They provide bright, even illumination, eliminating shadows and improving safety on the gas station premises. Customers can easily navigate the refueling area, improving their overall experience. LED canopy lights provide clear, even illumination throughout the entire gas station canopy area, eliminating dark spots and improving overall visibility. This improvement increases customer confidence and reduces the likelihood of accidents.
project Details
| | | | |
| --- | --- | --- | --- |
| Product | Model | CCT/ Optics | Quantity |
| 100w Canopy LED Lights | ZGSM-GS04-100R | 6500K,120degrees | 20pcs |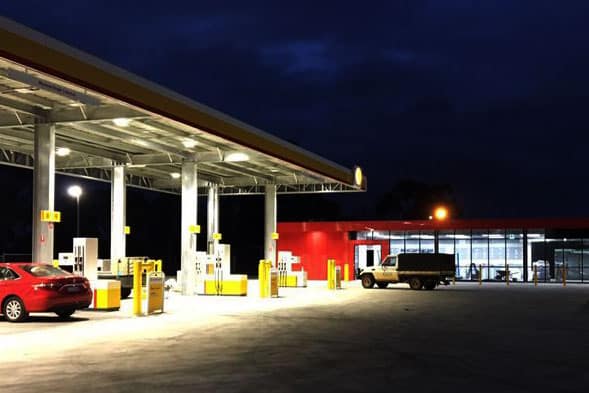 The Result
Primo's excellent heat dissipation, long life, low light decay, and ATEX certification for explosion protection fully meet the standards for gas station applications. The extended life and durability of LED lamps reduce the costs associated with frequent bulb changes and maintenance. Overall, the use of ATEX-approved canopy LED lights solves the safety issues associated with traditional canopy lighting systems, while saving energy, improving visibility, and reducing maintenance costs. The station successfully upgraded its lighting infrastructure to comply with safety regulations and enhance the overall experience for customers and employees, ensuring a safe and efficient environment.
ZGSM offers comprehensive lighting solutions
For various scenarios including street lighting, urban lighting, highway lighting, parking lot lighting, stadium lighting, sports lighting, factory lighting, warehouse lighting, gas station lighting, and tunnel lighting. Our solutions are designed to provide efficient and reliable illumination, enhancing safety and visibility in these environments.
Frequently Asked Questions
We know you might have more questions, so here's a list of the questions we get asked the most about Canopy LED Lights.
Contact Us Right Now!
*Your privacy is respected, and all information is secure.