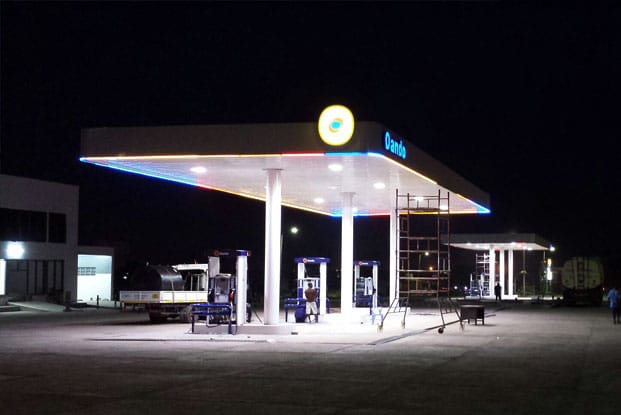 Gas Station LED Lights In A Gas Station In Ghana
The gas station LED lights project for gas station lighting in Ghanaian was completed in 2016. The implementation of LED lighting solutions at this gas station has revolutionized its lighting efficiency, improved the quality of lighting, resulted in significant energy savings, reduced maintenance costs, and enhanced the customer experience. The successful integration of the gas station led lights demonstrates its effectiveness in transforming a traditional gas station lighting system into a modern, efficient, and sustainable lighting solution.
Client Feedback In This Project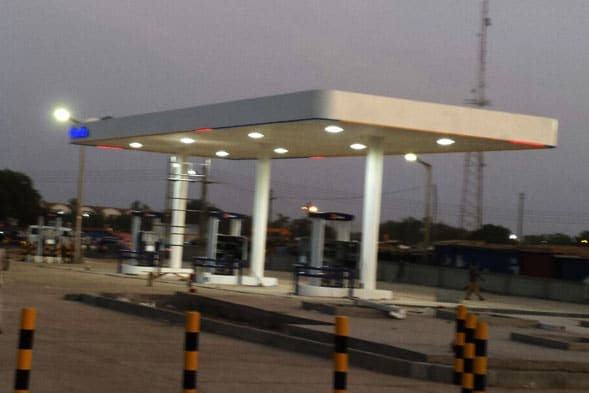 The Problem
Traditional lighting systems do not provide sufficient brightness and uniformity, resulting in poor visibility and safety hazards within the gas station grounds.
Outdated lighting technology consumes large amounts of energy, resulting in high electricity bills and increasing the station's carbon footprint.
Frequent bulb changes and maintenance requirements for traditional lighting systems create high ongoing costs and disrupt daily operations.
The Solutions
The customer chose ZGSM's H-Series LED Canopy Lights from a wide range of products. The H-Series gas station led lights are recessed mounted and designed for gas station lights. The entire light is modular in design with a single module of 40W for flexible power and easy maintenance and upgrades. With Philips LEDs and Meanwell power supply, the luminous efficacy can reach up to 165 LM/W and has passed ATEX explosion-proof certification, which allows the customer to be assured of its use in Customers can rest assured that light will be used in flammable and explosive locations, and the frame can be customized.
LED lights can be strategically installed in various areas within the gas station to improve visibility, safety, and overall aesthetics. LED canopy lights are typically mounted on the roof of the gas station to provide bright, even illumination of the fueling area. They ensure that customers and employees have good visibility during the day and at night, which improves safety and convenience.
project Details
| | | | |
| --- | --- | --- | --- |
| Product | Model | CCT/ Optics | Quantity |
| 80w Gas Station LED Lights | ZGSM-QD80H4 | 5000k, 110degrees | 80pcs |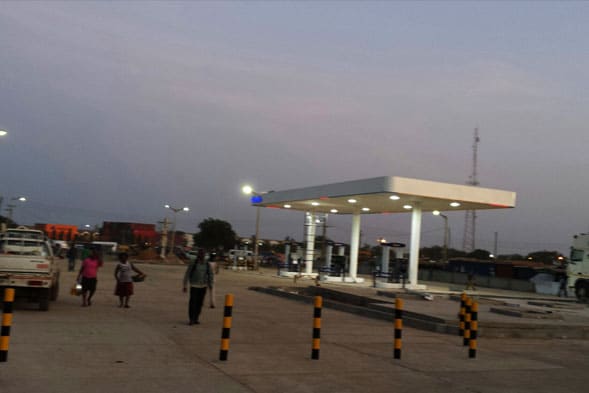 The Result
The longer life and durability of LED lights minimize the need for maintenance and reduce the need for frequent bulb changes. As a result, maintenance costs at gas stations are significantly reduced and operational efficiency is increased. The upgraded lighting system provides a bright and safe environment that enhances the overall customer experience. Customers feel safer and more comfortable and are more likely to frequent the gas station, which fosters customer loyalty and positive word-of-mouth referrals.
ZGSM offers comprehensive lighting solutions
For various scenarios including street lighting, urban lighting, highway lighting, parking lot lighting, stadium lighting, sports lighting, factory lighting, warehouse lighting, gas station lighting, and tunnel lighting. Our solutions are designed to provide efficient and reliable illumination, enhancing safety and visibility in these environments.
Frequently Asked Questions
We know you might have more questions, so here's a list of the questions we get asked the most about Gas Station LED Lights.
Contact Us Right Now!
*Your privacy is respected, and all information is secure.