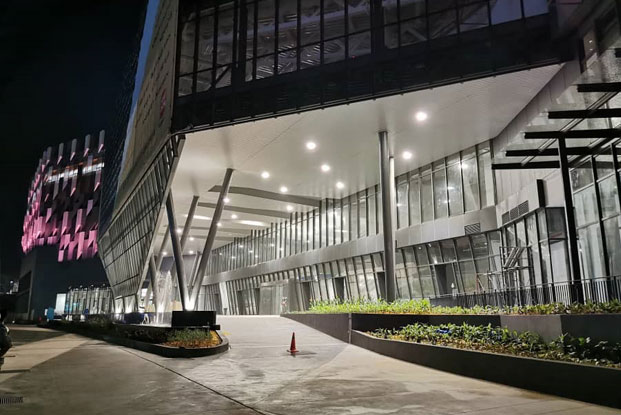 LED Canopy Light Fixtures In A Hotel Lobby In Indonesia
2019 LED Canopy Light Fixtures Lighting Project for Lobby Entrance of Hotel in Indonesia with H-Series Recessed LED Canopy Lights. The hospitality team at a luxury hotel was looking to improve the lighting at the lobby entrance to create a more welcoming and aesthetically pleasing atmosphere for guests. The current lighting setup consisted of traditional incandescent fixtures that proved to be inefficient, outdated, and prone to frequent maintenance issues. To address these issues, hotel management was considering upgrading the lobby entrance lighting system with energy-efficient and modern LED canopy fixtures.
Client Feedback In This Project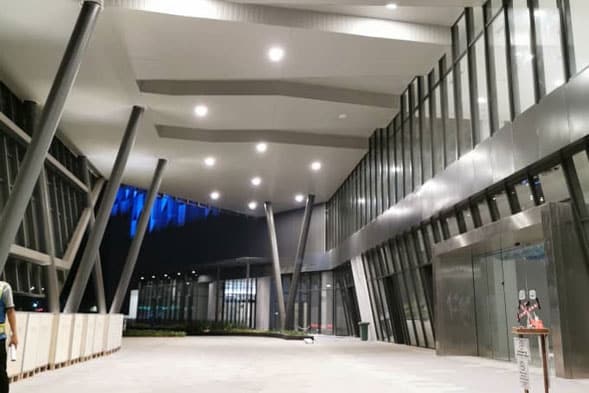 The Problem
The current incandescent fixtures consume a significant amount of energy, resulting in higher electricity bills for the hotel.
Incandescent bulbs burn out frequently, requiring frequent maintenance, disrupting the lobby's ambiance, and incurring additional labor costs.
Current lighting setups do not provide consistent illumination throughout the lobby entrance, resulting in unsightly dark spots and shadows.
Existing fixtures were inconsistent with the hotel's modern and sophisticated interior design and detracted from the overall guest experience.
The Solutions
After comparing numerous products on the market, the client chose H-Series LED canopy light fixtures manufactured by ZGSM. It features a modular design with an attractive appearance, an illuminance of 260 lux, and a color rendering index of RA82. Energy-efficient LED canopy fixtures were strategically installed at the entrance of the lobby to provide even and sufficient illumination. LED canopy luminaires were selected to complement the hotel's contemporary interior design and enhance the overall aesthetic of the lobby entrance.

LED fixtures use 75% less energy compared to the previous incandescent bulbs. As a result, the hotel's electricity costs dropped significantly, saving money in the long run. Carefully selected LED canopy lights that match the hotel's modern interior design promote an overall aesthetic upgrade. The sleek and modern design of the fixtures complements the lobby's décor, leaving a positive impression on guests as they enter the hotel.
project Details
| | | | |
| --- | --- | --- | --- |
| Product | Model | CCT/ Optics | Quantity |
| 80w Gas Station LED Lights | ZGSM-QD80H4 | 5000k, 110degrees | 80pcs |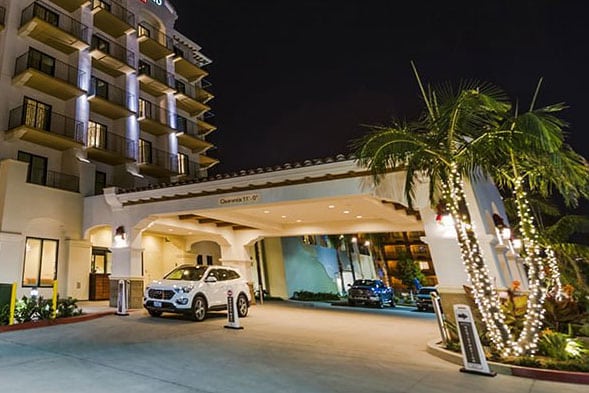 The Result
The decision to replace the outdated incandescent fixtures with LED canopy light fixtures proved to be a huge success for this luxury hotel. These solutions not only solved an existing lighting problem but also provided multiple benefits, including increased energy efficiency, reduced maintenance, improved ambiance, and enhanced aesthetics. The hotel's lobby entrance is now a shining example of how smart lighting solutions can positively impact the guest experience and operational efficiency in the hospitality industry.
ZGSM offers comprehensive lighting solutions
For various scenarios including street lighting, urban lighting, highway lighting, parking lot lighting, stadium lighting, sports lighting, factory lighting, warehouse lighting, gas station lighting, and tunnel lighting. Our solutions are designed to provide efficient and reliable illumination, enhancing safety and visibility in these environments.
Frequently Asked Questions
We know you might have more questions, so here's a list of the questions we get asked the most about LED Canopy Light Fixtures.
Contact Us Right Now!
*Your privacy is respected, and all information is secure.