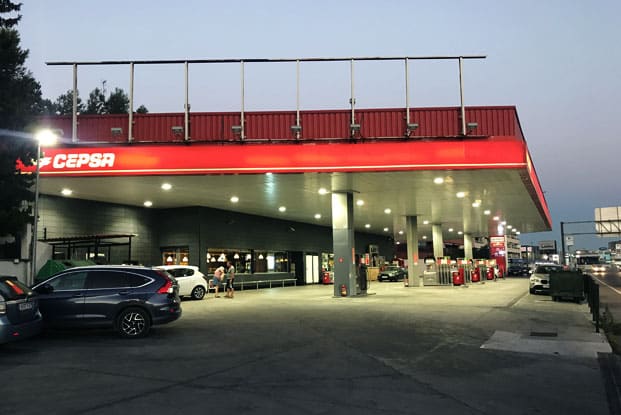 Gas Station Canopy Lights For Petrol Station In Spain
This is a gas station canopy lights used in a gas station project, project in Spain's largest oil company CEPSA. adopted the H series with motion sensor LED canopy light solution. This new luminaire automatically senses its surroundings through motion sensors, enabling intelligent lighting control to reduce energy consumption, increase safety and improve user experience.
Client Feedback In This Project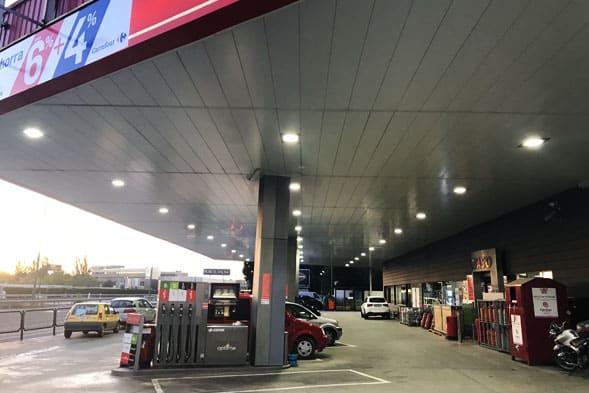 The Problem
Conventional lighting systems tend to stay lit continuously, regardless of whether there are vehicles or people in the vicinity of the gas station. This leads to wasted energy, especially during low-load periods.
Untimely lighting can lead to an unclear environment at the gas station, increasing the risk of accidents such as vehicle crashes or people slipping and falling.
Conventional fixtures have a short lifespan, so they often need to be repaired and replaced, increasing maintenance costs and downtime.
The Solutions
In order to satisfy the customers who want the lamps to realize intelligent control, after the discussion with ZGSM technicians, it is suggested that the customers install LED lamps with motion sensors to replace the traditional lamps. The H series LED gas station canopy lights are equipped with advanced motion sensor technology, which can sense whether there is a vehicle or a person approaching the surrounding environment.

When a car drives into the gas station, the light will reach 100% brightness, and 30 seconds after the car leaves and no other vehicle enters, the light will switch to 30% brightness, which effectively saves power consumption and does not produce glare. Customers can also manually change the motion sensor settings under the canopy with a remote control, very convenient. This gas station LED canopy light has passed ATEX explosion-proof certification, which is the best choice for gas station lighting.
project Details
| | | | |
| --- | --- | --- | --- |
| Product | Model | CCT/ Optics | Quantity |
| 80w Gas Station Canopy Lights | ZGSM-QD120H4 | 5000k, 90degrees | 56pcs |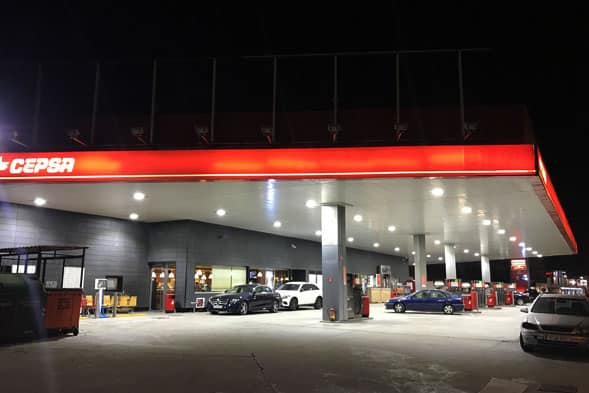 The Result
The use of LED gas station canopy lights with motion sensors brings significant benefits to gas stations in terms of improved energy efficiency, increased safety, and reduced operating costs. The intelligent lighting system ensures that the gas station always provides timely lighting, creating a safer environment for drivers and customers. CEPSA is very satisfied with the installation of our lamps and has added several orders for the replacement of gas station lamps.
ZGSM offers comprehensive lighting solutions
For various scenarios including street lighting, urban lighting, highway lighting, parking lot lighting, stadium lighting, sports lighting, factory lighting, warehouse lighting, gas station lighting, and tunnel lighting. Our solutions are designed to provide efficient and reliable illumination, enhancing safety and visibility in these environments.
Frequently Asked Questions
We know you might have more questions, so here's a list of the questions we get asked the most about LED Gas Station Canopy Lights.
Contact Us Right Now!
*Your privacy is respected, and all information is secure.