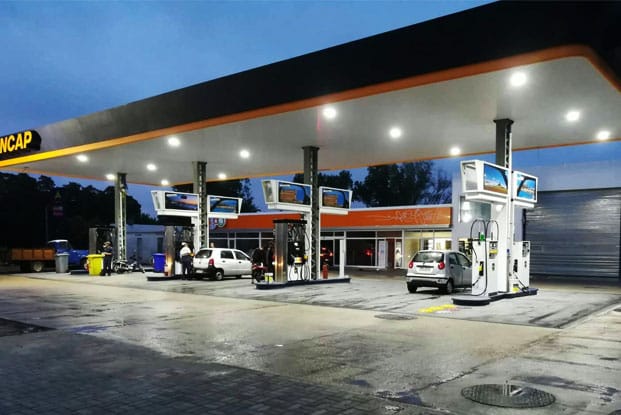 LED Canopy Lights For Gas Station In Uruguay
The Uruguay gas station project, to be completed in 2019, selected the H-Series ATEX certified LED canopy lights for gas station. When choosing LED canopy lights for a gas station, consider the required brightness level, beam angle, color temperature, and lighting control to ensure optimal lighting performance and energy efficiency. ZGSM as a leading manufacturer of LED lighting fixtures in China, has a wide range of LED gas station canopy lights and supports free lighting simulation design and product customization, welcome to buy.
Client Feedback In This Project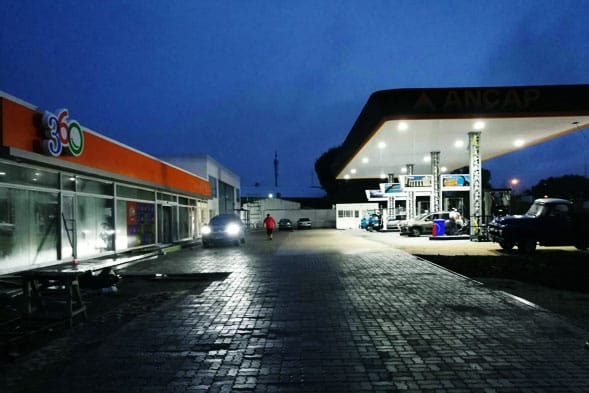 The Problem
The old luminaire has serious light decay and can no longer meet the daily lighting.
Existing lamps have serious strobe problem, which brings bad visual experience to customers and employees.
The lamps have aging problems, which is a safety hazard in the special working environment of gas stations.
The Solutions
Based on the information provided by the customer, ZGSM recommended the use of H-Series ATEX certified LED canopy lights for gas station, oxidized tensile aluminum, modular design, 40-60W for a single module, 2 modules can be made into 100W and 120W for power flexibility. the LEDs provide instant illumination when they are turned on, eliminating the warm-up period that is required with some traditional lighting technologies. In addition, the LEDs operate without flickering, which reduces eyestrain and improves the overall comfort of customers and employees. The H-Series LED Gas Station Lights are available with customizable bezels to meet customer installation needs.
project Details
| | | | |
| --- | --- | --- | --- |
| Product | Model | CCT/ Optics | Quantity |
| 120w LED Canopy Lights For Gas Station | ZGSM-QD120H6 | 5700k, 90degrees | 30pcs |
| 100w LED Canopy Lights For Gas Station | ZGSM-QD100H5 | 5700k, 90degrees | 16pcs |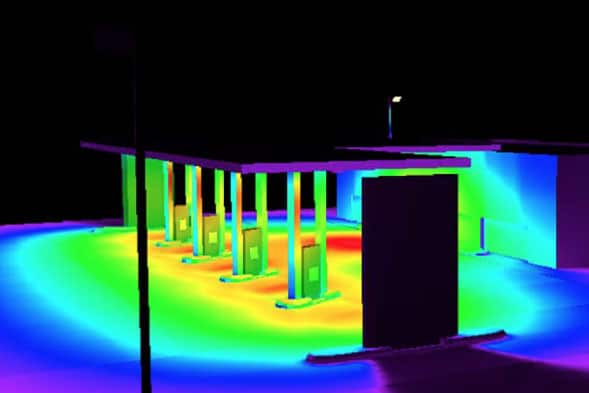 The Result
LED canopy lights are designed to withstand harsh outdoor conditions. They are resistant to vibration, shock, and temperature fluctuations, making them ideal for gas station canopies that are exposed to the elements. The canopy LED lights provide excellent brightness and uniform illumination, ensuring optimal visibility of the gas station canopy. Increased visibility improves the safety of customers and employees, creating a well-lit and safe environment during the day and at night. The customer is very satisfied with the lighting effect of this project and said that they can cooperate with us for a long time in the future.
ZGSM offers comprehensive lighting solutions
For various scenarios including street lighting, urban lighting, highway lighting, parking lot lighting, stadium lighting, sports lighting, factory lighting, warehouse lighting, gas station lighting, and tunnel lighting. Our solutions are designed to provide efficient and reliable illumination, enhancing safety and visibility in these environments.
Frequently Asked Questions
We know you might have more questions, so here's a list of the questions we get asked the most about LED Canopy Lights For Gas Station.
Contact Us Right Now!
*Your privacy is respected, and all information is secure.