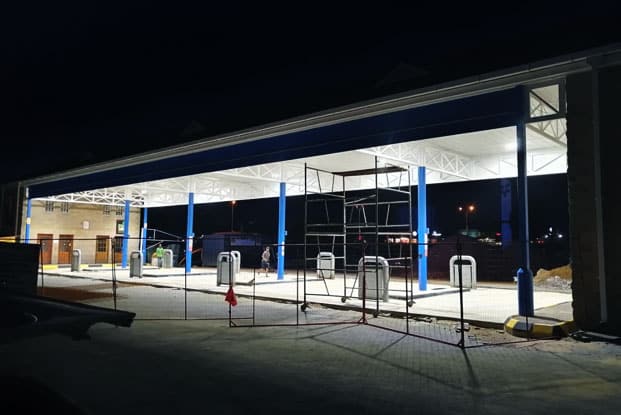 LED Gas Station Light In A Petrol Station In South Africa
The gas station lighting project we did in South Africa in 2020 used the H series module design LED gas station light. In this case study, we will explore the implementation of explosion-proof certified LED gas station lights in a gas station. The goal is to address existing issues associated with traditional lighting systems and provide a safe and efficient lighting solution. The gas station was looking to upgrade its lighting infrastructure to comply with safety regulations and improve visibility for drivers and employees.
Client Feedback In This Project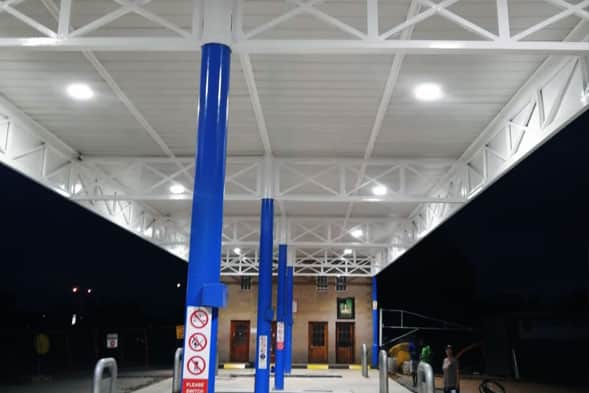 The Problem
Conventional lighting systems at gas stations pose a significant safety risk due to the presence of flammable gases and vapors. They can ignite or cause an explosion if faults or short circuits occur.
Conventional lighting fixtures used at gas stations typically consume large amounts of energy, resulting in high operating costs. In addition, they may provide insufficient illumination, leading to reduced visibility and potential safety issues.
The Solutions
After speaking with the customer, it was recommended that they use H-Series LED gas station lights, which have an explosion-proof design and certification to ensure that they can operate safely in hazardous environments. The LED lights provide superior illumination while consuming less power. The H-Series LED gas station canopy lights provide a higher quality of illumination that ensures better visibility for customers and employees.

These lights produce a bright, even illumination that reduces shadows and improves safety at the gas station site. Customers can easily navigate the refueling area, improving their overall experience. LED lights last longer than traditional lighting options. They do not need to be replaced as often, which reduces maintenance costs at the gas station. In addition, LED lights are more resistant to environmental factors such as vibration, temperature fluctuations, and humidity, making them ideal for the gas station environment.
project Details
| | | | |
| --- | --- | --- | --- |
| Product | Model | CCT/ Optics | Quantity |
| 150w LED gas station light | ZGSM-QD150H5 | 5700K,110degrees | 16pcs |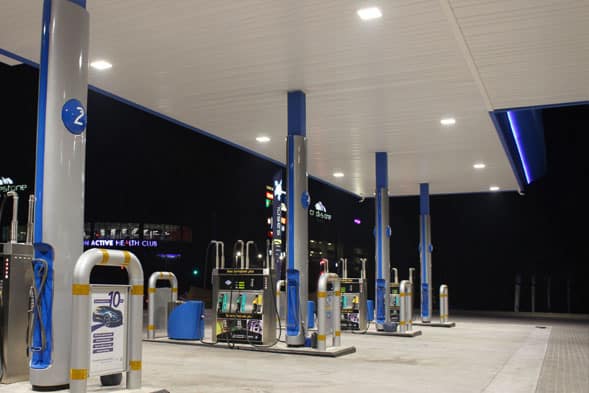 The Result
LED gas station lights with explosion-proof certification not only address the safety concerns of traditional lighting systems but also provide significant energy savings, improved visibility, and reduced long-term costs. The risk of explosions and accidents caused by lighting failures is significantly reduced, ensuring a safer environment for customers and employees. Customer feedback from every driver who has visited the station has been very positive about the gas station lighting.
ZGSM offers comprehensive lighting solutions
For various scenarios including street lighting, urban lighting, highway lighting, parking lot lighting, stadium lighting, sports lighting, factory lighting, warehouse lighting, gas station lighting, and tunnel lighting. Our solutions are designed to provide efficient and reliable illumination, enhancing safety and visibility in these environments.
Frequently Asked Questions
We know you might have more questions, so here's a list of the questions we get asked the most about LED Gas Station Light.
Contact Us Right Now!
*Your privacy is respected, and all information is secure.