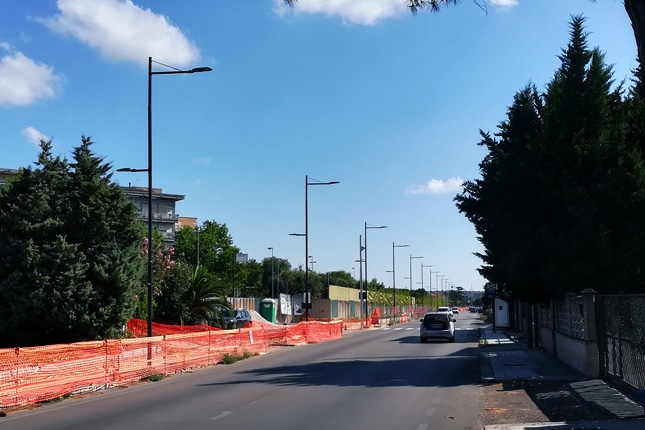 LED roadway light for a side road in Italy
Italian LED roadway light project, installed in 2019. This project is a perfect solution to the problem of lighting for cars and pedestrians. LED roadway lighting is an energy-efficient lighting solution designed specifically for outdoor lighting applications, such as streets, highways, parking lots, and other commercial outdoor areas. These lights use LED technology and have significant advantages over traditional light sources such as high-pressure sodium and metal halide lamps.
Client Feedback In This Project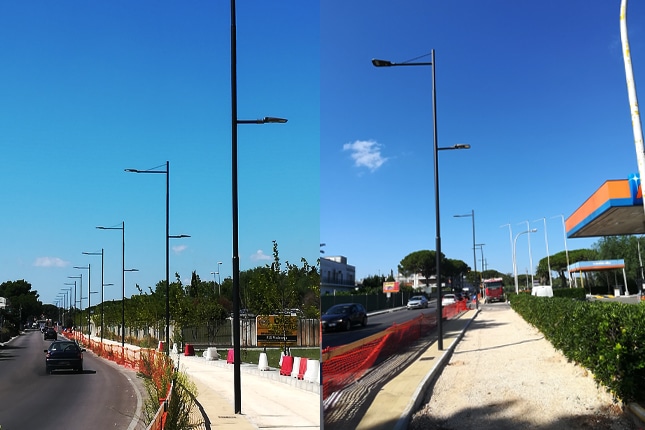 The Problem
The road was not previously equipped with any lighting facilities, seriously affecting people's travel.
Because there is no lighting, the safety of the people living next to the road cannot be guaranteed.
Compared with the current lighting products on the market, it is necessary to choose a street lamp that is cost-effective and easy to install and maintain.
The Solutions
All K-Series LED roadway light is equipped with Inventronics Programmable Class II drivers and High Efficacy Lumileds 5050 chips. The tool-free opening design facilitates installation and maintenance. The customer required that the street lamps should be installed on one side, which should illuminate both the driveway and the pedestrian area. After the lighting simulation design of ZGSM engineers, the street lamps were installed with two arms of the same pole. 35W street lamps were installed at a height of 4 meters to illuminate the pedestrian area, and 90W street lamps were installed at a height of 6 meters to illuminate the driveway. The 2M spectrum satisfies the lighting road and pedestrian areas.

project Details
| | | | |
| --- | --- | --- | --- |
| Product | Model | CCT/ Optics | Quantity |
| 90w LED roadway light | ZGSM-LD90KM | 4000K, 2M | 250pcs |
| 35w LED roadway light | ZGSM-LD35KS | 4000K, 2M | 136pcs |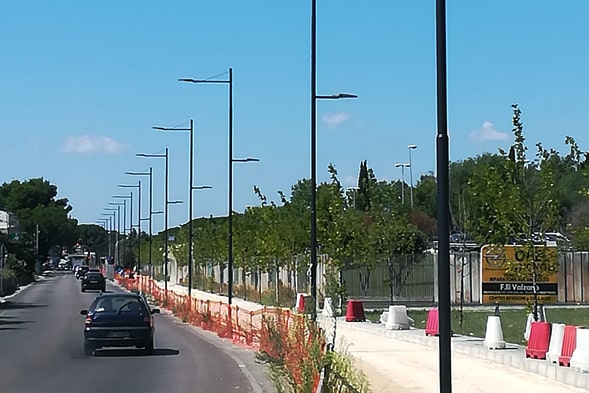 The Result
LED roadway lights provide brighter lighting, improve driver visibility and reduce accidents. LED lights enhance pedestrian and vehicle safety by clearly illuminating the area. LED lights improve visibility and safety in residential areas, especially for playing children and pedestrians. The client was particularly satisfied with the scheme given by ZGSM and indicated that they would continue to cooperate.
ZGSM offers comprehensive lighting solutions
For various scenarios including street lighting, urban lighting, highway lighting, parking lot lighting, stadium lighting, sports lighting, factory lighting, warehouse lighting, gas station lighting, and tunnel lighting. Our solutions are designed to provide efficient and reliable illumination, enhancing safety and visibility in these environments.
Frequently Asked Questions
We know you might have more questions, so here's a list of the questions we get asked the most about LED roadway light.
Contact Us Right Now!
*Your privacy is respected, and all information is secure.