Intelligent Street Lighting with ZIGBEE Protocol
Introduction
Intelligent street lighting has been increasingly sought after in the market since 2017 and even earlier. Many requests have been made for a smart control system or intelligent control system to be used in LED street lighting. This advanced technology greatly assists electricians and municipal administrators in efficiently managing the country's LED luminaires. By monitoring the status of each lamp through a web-based platform, operators can swiftly identify any failures and promptly schedule maintenance and repairs. The comprehensive status of all lamps is conveniently displayed on the intuitive web interface.

Components of Intelligent Street Lighting
ZIGBEE protocol is one of the most frequently adopted wireless protocols in electronic products and devices and household appliances(Smart devices), which make those units with ZIGBEE modules built-in and communicate with each other. With a gateway or so-called "concentrator" we can gather all useful information and current status of devices to a purpose of monitoring and repairing. The status of information is uploaded to the cloud.
When it comes to LED street lighting projects or tender works it would be almost same operating style in a proportion of bidding documents of requirements stating they need sort of smart control systems.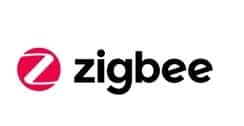 "Zigbee is an IEEE 802.15.4-based specification for a suite of high-level communication protocols used to create personal area networks with small, low-power digital radios, such as for home automation, medical device data collection, and other low-power low-bandwidth needs, designed for small-scale projects which need wireless connection. Hence, Zigbee is a low-power, low data rate, and close proximity (i.e., personal area) wireless ad hoc network."
——From Wikipedia
Figure 2 –Zigbee logo with concept by WIKIPEDIA
Generally as experiences a complete suite set of LED street lighting system ZIGBEE protocol based includes basically LED street lights with NEMA 7in receptacle on ANSI B136.1 (Often simply called "Socket"), Lighting controller, gateway and web end interface. It will be so complicated when we are reading the technical explanations and professional articles by experts of some famous electricians from head huge brand of companies of the world. However it is appeared to be easier when we get some real fixtures and materials in hand. After testing guided by the LED lighting manufacturer, you will understand that way much better.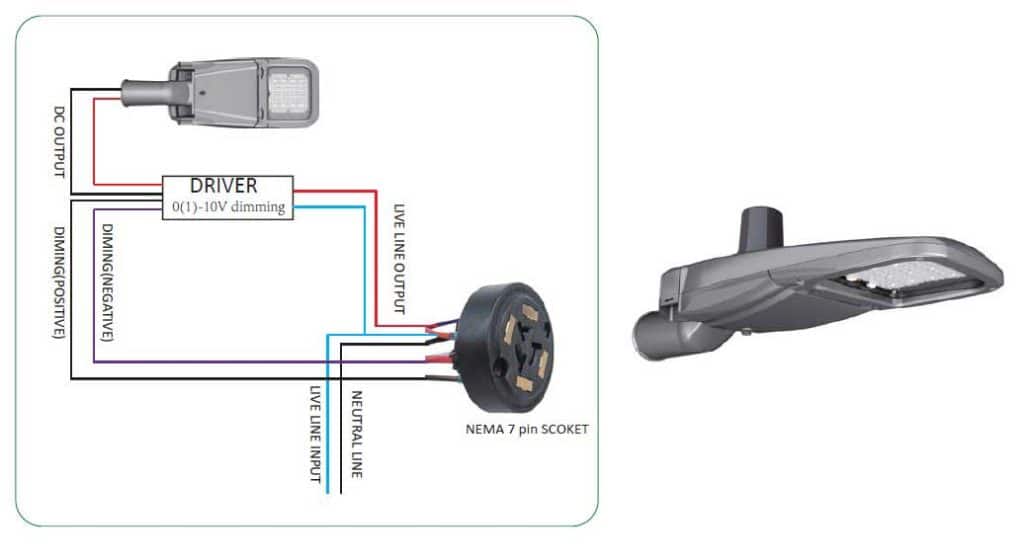 LED Street Luminaire with NEMA 7 pin socket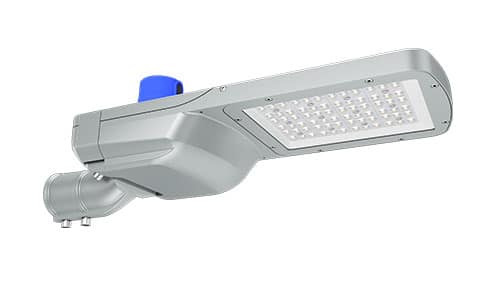 Lamp with a socket
This is ZGSM RIFLE Series intelligent street lighting and a little bit difference is the small round black socket on the regular back of body. In some tendering works they state it as "Smart Ready" in their bidding documents which means they will use this configuration for the upcoming applications of remote control in the near future or long run.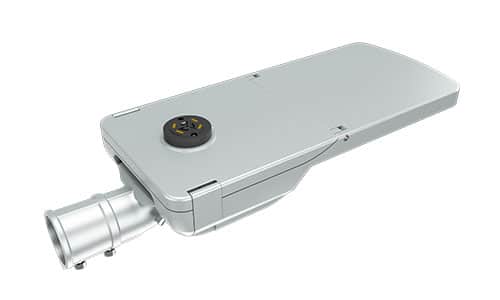 Lamp with a lighting controller
It is very important for us to pay attention that we need a extra Short Cap before installing a real lighting controller. Without a Short Cap, the luminaire will not work. If we plug in the lighting controller on this socket, the lamp becomes a "smart device" then.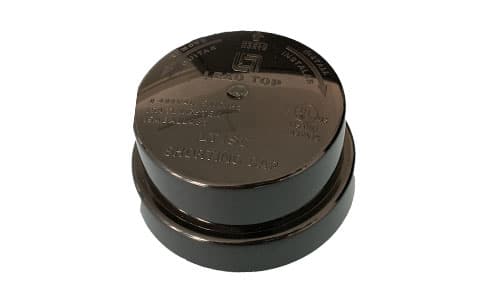 Short Cap
Standard: ANSI C136.10 & UL773
Rated voltage: 0-480V
Rated load: 15A
Shell: Anti-ultraviolet and impact-resistant PP
Bottom plate: high temperature and impact resistant PBT
Rating: IP66
Figure 4 – Street lamp with NEMA socket
Lighting controller
ZGSM10-NEMA single lamp controller is developed specially for foreign market demand by ZGSM. It is an important part of intelligent street lighting control system. The core chip of ZGSM10-NEMA controller adopts self-developed ZIGBEE wireless communication module. Together with professional hardware and software design, ZGSM10-NEMA controller offers powerful functions, easy implement
-ation, wiring free, reliable operation and easy-maintenance. With all these advantages, ZGSM10-NEMA controller is a high performance and energy saving product, specialized for intelligent street lighting.
Dimension: 84Dia.×97.8(mm)
Operating temperature: -40℃~+85℃
Wireless Frequency: 2.4G
Dimming Control Type: 0(1)-10V, PWM
Transmission Distance: 800 Meters(between the nodes in the regular road environment)
IP rating: IP65
Antenna Gain:3DB
Antenna Standing Wave≤2.0
More details please contact us
Figure 5 – Lighting controller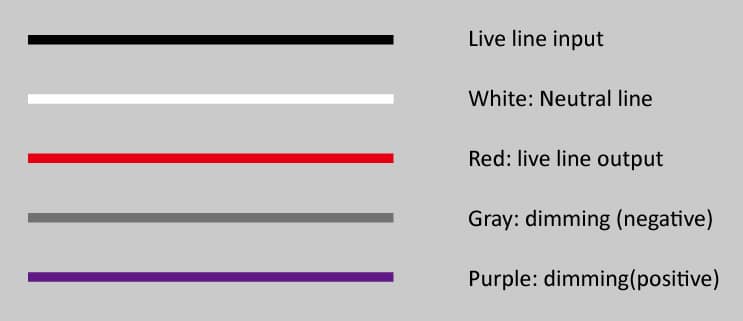 Figure 6 – Wiring of lighting controller
Gateway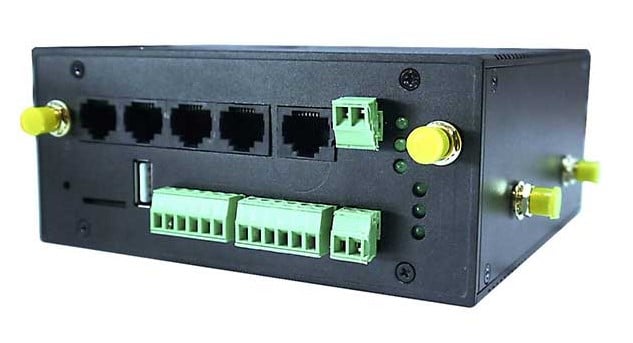 ZGSM11-GW-3 is a kind of Internet of Things wireless communication gateway, which uses the public network wireless network + small wireless network to provide users with the function of eliminating the need of field wiring and wireless long-distance data transmission.
The product uses high-performance industrial 32-bit processor and industrial-grade wireless communication module, while providing a serial port (RS232 / RS485), four Ethernet LAN ports, an Ethernet WAN port, and supports WIFI AP / Repeater / STA, so it can be connected to serial devices, Ethernet devices and WIFI devices at the same time, which provides a perfect platform for IoT applications. It can be widely used in industries such as self-service terminal industry, smart grid, intelligent transportation, Automation, intelligent building, fire protection, environmental protection, smart medical treatment, smart lighting, smart agriculture and coal mines, oil and other occasions.
Put WIFI, 4G and other wireless antennas properly connected.
4G / Ethernet cable (optional) to make gateway access to internet.
The gateway connected to the power supply, recommended DC12V 2A power.

Figure 7 – Gateway
Other connection port optional
COM connection: 485 A + B-, and customer 485 interface A, B feet orthogonal connection. 232 interface, RX, TX, GND, and customer 232 serial port RX, TX anti-cross connection, GND direct connection.
LAN port connects computer or industrial network port equipment, serial port connects industrial serial devices, WAN port connects to switch and other network equipment.
Tips: We will also need such a box to load the gateway with its own power supply device, inner wiring and positions for antennas. It provides enough room for the device and on the other hand protect the device from water, dust and immoral human strikes. You can order this housing from us or completely design it by your team.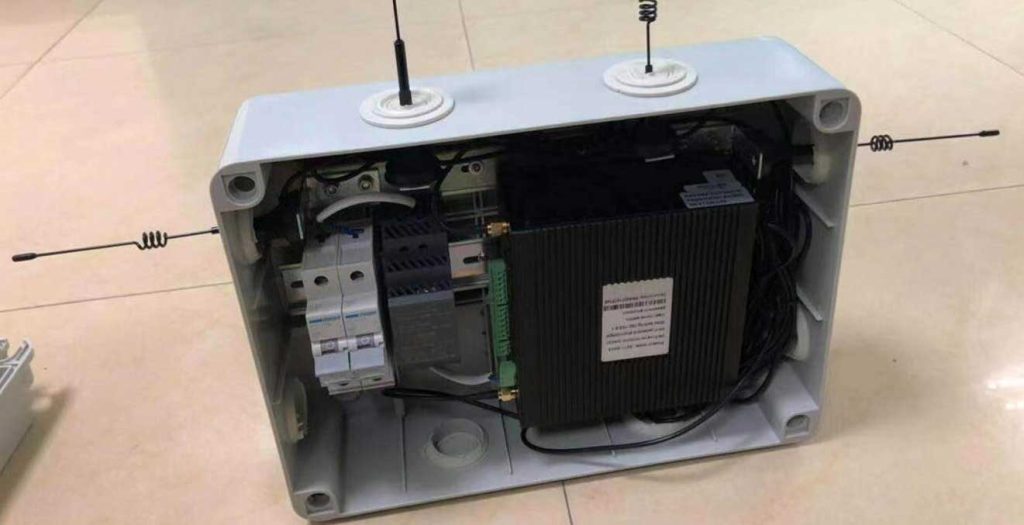 Web end interface – Software Platform
ZGSM intelligent lighting management & control system requires conducting the platform operations with Google Chrome. Enter the login website, click "Enter" to enter the login interface. Enter the account, password and identifying code (case insensitive) provided by the supplier and click "Login". When the status of "Keep Password" is selected, then the user name and password entered this time will be saved. When the system starts next time, it will login automatically with the saved user name and password. (As shown in the following figure)
After we get an available ID with password given by the lighting supplier, we can log in this system and start to monitor the intelligent street lightings that we installed on local sites. Such as brightness of percentage, dimming, on/off and most importantly the strategy settings. Here I have an example of strategy setting:
| | | | | | |
| --- | --- | --- | --- | --- | --- |
| SL No. | Name of Month | stage 1 | stage 2 | stage 3 | stage 4 (Day time) |
| 1 | February to April | 100% from 18:10 to 1:00 | 50% from 1:00 to 3:00 | 80% from 3:00 to 6:00 | off line from 6:00 to 18:10 |
| 2 | May to September | 100% from 18:35 to 1:00 | 50% from 1:00 to 3:00 | 80% from 3:00 to 5:20 | off line from 5:20 to 18:35 |
| 3 | October to January | 100% from 17:20 to 1:00 | 50% from 1:00 to 3:00 | 80% from 3:00 to 6:20 | off line from 6:20 to 17:20 |
Figure 8 – Example of strategy settings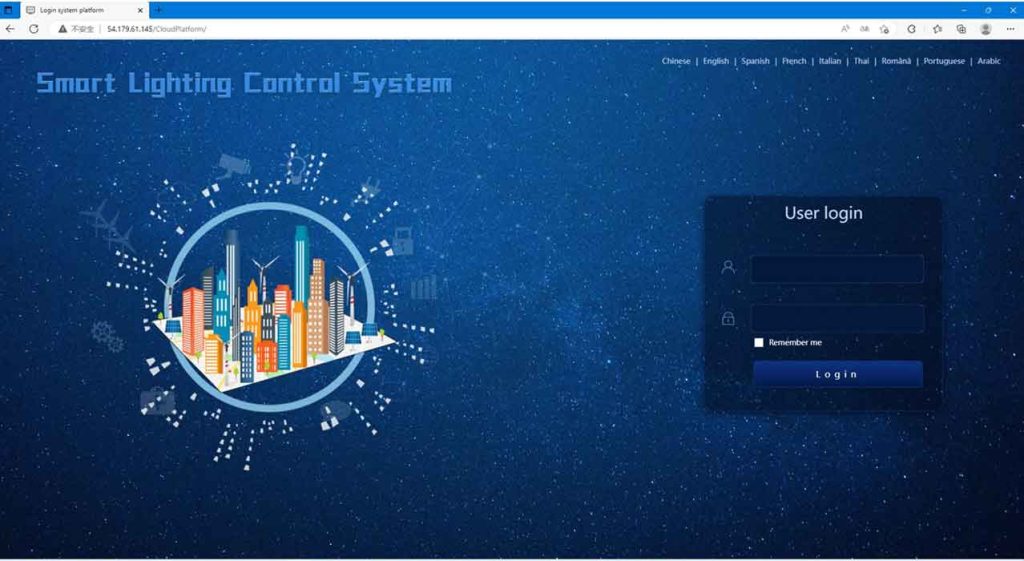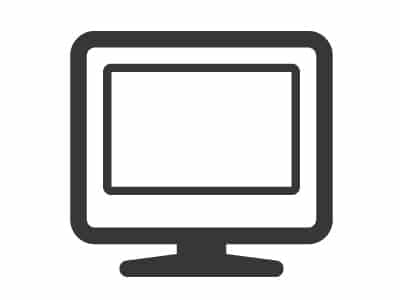 Street lamp control
Check the running conditions of all the site equipment in real time and retrieve accurately the real-time data of all the equipment.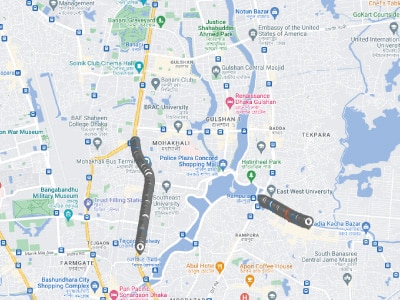 Map monitoring
Display accurately the running conditions of each site equipment on the map and conduct the real-time operations.
Energy consumption analysis
Set up various energy consumption threshold values. Display the energy consumption conditions accurately and conduct the comparison.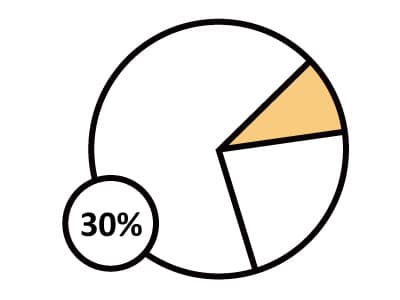 Strategic management
Formulate various automatic control ways, achieving the unmanned running.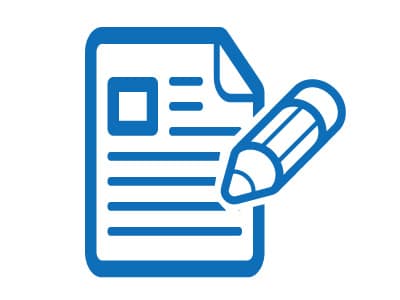 Report management
Inquire accurately the historical records of the site equipment, achieving the data traceability.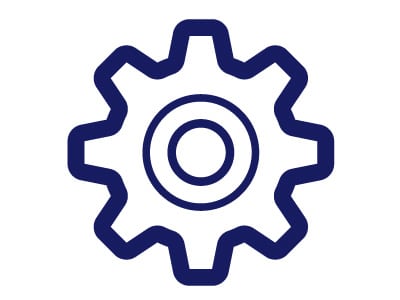 Basic information setting
Manage the various equipment in the platform and set up the parameter threshold values of the equipment.
Figure 10 – Basic functions
You can set the dimming strategy as per your Seasonal night and day duration characteristics to aim to saving more electricity energy. If you need more assistance during your project bidding, please just send me email to us.
Summary
In conclusion, the implementation of intelligent street lighting using the ZIGBEE protocol offers an efficient and comprehensive solution for modern lighting systems. The key components, including the LED Street Luminaire with the NEMA 7 pin socket, lighting controller, gateway, and software platform, work together to optimize energy usage, enhance maintenance efficiency, and improve overall lighting performance. By integrating LED technology and the ZIGBEE protocol, these intelligent street lighting systems enable advanced features such as remote monitoring and control, adjusting lighting levels based on real-time conditions, and seamless integration with other smart city infrastructure. This not only ensures optimal illumination for pedestrians and vehicles but also contributes to energy conservation and sustainability efforts.
Related Posts
Smart Street Light System Create Smart City Lighting Sally Liu Smart Street Light System A smart street light is a...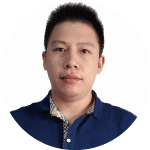 Hi I am Zuck and I'ven been focused on LED lighting since 2016. I feel enthusiastic to work together with people and provide positive proposals and tendering/bidding supports for you including works not only customized requests and parameters required in documents but also even production, installation advices and shipment tracking of your cargos. Looking forward to hear from you soon.
Email: [email protected]

Whatsapp: +86 173 0174 1840