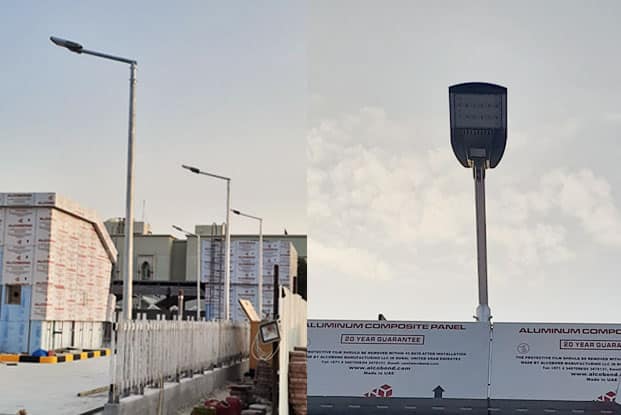 Led Road Lighting On Factory Roads in Kuwait
The Kuwait factory's led road lighting project was finished in 2019. The Series H 150w modular LED street lights with type III light distribution were chosen for the project to enhance road illumination effects and conserve energy.
The LED roadway light uses innovative modularization, which facilitates maintenance and has a significant impact on energy savings. This street light's light distribution type III can deliver a more uniform illumination effect, lessen blind spots and reflections, and increase visibility, all of which increase traffic safety.
Client Feedback In This Project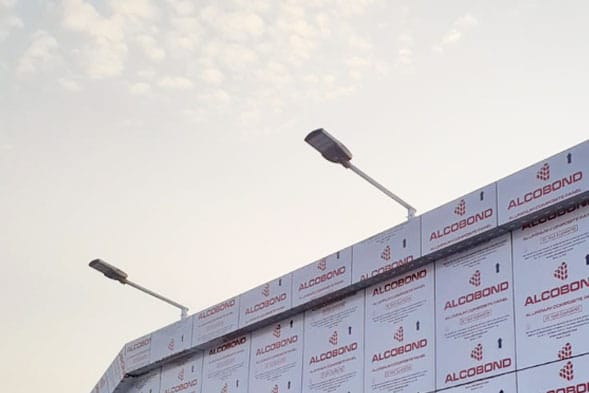 The Problem
Workers won't be able to see the ground and surroundings properly at night on plant roadways, which makes their jobs more difficult and dangerous. Additionally, inadequate led roadway lighting will hinder the productivity of employees and impede the flow of labour and output.
In factory road lighting, too bright or insufficiently dim local lighting will impair worker visibility and comfort, making work more difficult and draining. Workers won't be able to see the ground or the surrounding surroundings if the lighting is too strong since it will create a high glare, and if the lighting is too dim, they will experience blurred vision.
The Solutions
The use of high-quality LED bulbs and practical led road lighting design can address the aforementioned issues. Initially, the customer wanted to put in 400W high pressure sodium lamps. Following our DIALUX lighting simulation, it is advised to use 150W instead, which can save your electricity costs by more than 60%. To achieve regional balance and comfortable lighting, the intelligent control system is employed to modify the brightness and light dispersion of the light.


project Details
| | | | |
| --- | --- | --- | --- |
| Product | Model | CCT /Optics | Quantity |
| led road lighting | ZGSM-LD150H5 | 5700K /3M | 100pcs |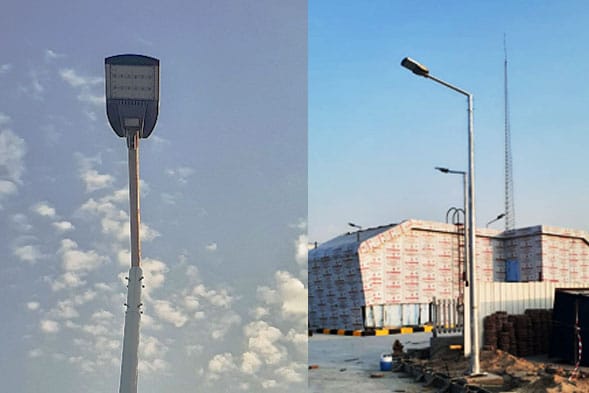 The Result
To enhance the effectiveness of the led road lighting and conserve energy, the project uses Series H 150w modular LED street lights with type III light distribution.
A better lighting effect for roads. The adoption of high-quality LED bulbs from ZGSM can produce illumination effects that are more uniform and clear, decrease blind spots and road reflections, and increase visibility and road safety.
Enhanced productivity and labour efficiency. By boosting factory lighting, job efficiency and production efficiency are increased while also enhancing worker comfort, visibility, and error rates.
Significantly improved workplace security. The risk of workers working at night is reduced, the frequency of safety accidents is decreased, and work safety is considerably enhanced by strengthening the road lighting effect.
ZGSM offers comprehensive lighting solutions
For various scenarios including street lighting, urban lighting, highway lighting, parking lot lighting, stadium lighting, sports lighting, factory lighting, warehouse lighting, gas station lighting, and tunnel lighting. Our solutions are designed to provide efficient and reliable illumination, enhancing safety and visibility in these environments.
Frequently Asked Questions
We know you might have more questions, so here's a list of the questions we get asked the most about smart city street lighting.
Contact Us Right Now!
*Your privacy is respected, and all information is secure.