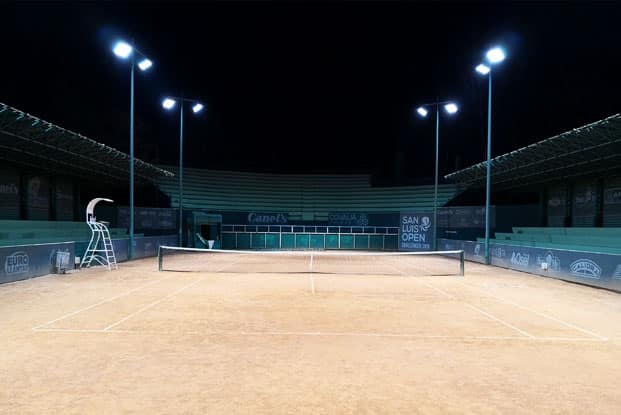 Stadium Flood Lights For Tennis Court Lighting In Mexico
Stadium flood lights for the tennis court lighting project in Mexico with be completed in 2019. The entire stadium lighting is designed and manufactured by ZGSM with M series LED stadium lights. Stadium floodlights are high-intensity lighting fixtures specifically designed for lighting large stadiums, arenas, and outdoor venues. Stadium floodlights are known for their high-lumen output, providing intense illumination over a wide area. This brightness is essential to ensure clear visibility on the field or stage. Stadium floodlights play a vital role in improving player performance, spectator experience, and overall safety within the venue.
Client Feedback In This Project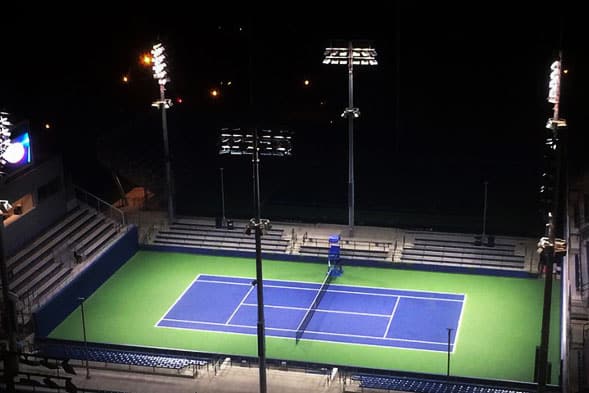 The Problem
Traditional high-pressure sodium lamps provide uneven illumination, affecting the visibility of athletes and spectators alike
Traditional high-pressure sodium lamps suffer from flickering problems, causing visual discomfort for players.
Tennis courts need to be illuminated for longer periods of time, so energy-efficient solutions are needed to reduce operating costs and environmental impact.
LED Stadium Flood Lights must be durable and able to withstand outdoor conditions including rain, wind, and temperature changes.
The Solutions
ZGSM was approached to illuminate a standard tennis court and its surrounding area of 40*20m. After the ZGSM team's lighting design, we applied two beam angles to the stadium lights for better illumination, resulting in the use of 16 sets of M-Series sports lights from ZGSM. The stadium floodlights provide bright, even illumination, ensuring clear visibility for athletes, performers, and spectators, regardless of the time of day or weather conditions. The stadium floodlights are able to withstand a variety of weather conditions, including rain, wind, and temperature fluctuations, ensuring reliable performance in outdoor environments.
project Details
| | | | |
| --- | --- | --- | --- |
| Product | Model | CCT/ Optics | Quantity |
| 560w Stadium Flood Lights | ZGSM-TGD840M | 5000k, 30degrees | 8pcs |
| 280w LED Stadium Flood Lights | ZGSM-TGD840M | 5000k, 60degrees | 8pcs |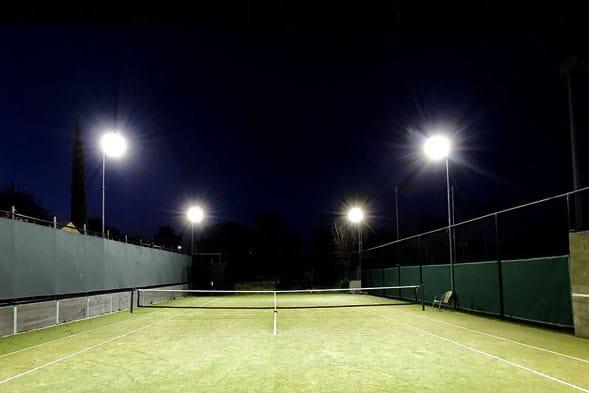 The Result
Customers have reported that the lighting is fantastic, with even illumination throughout the stadium. There is limited spill light and low glare, which saves energy and serves the athletes' needs well. Adequate tennis court lighting enhances the overall viewing experience for spectators, allowing them to see events and matches clearly and without the discomfort of glare. Well-lit stadiums help provide a safe environment for participants and spectators, reducing the risk of accidents and enhancing safety measures.
ZGSM offers comprehensive lighting solutions
For various scenarios including street lighting, urban lighting, highway lighting, parking lot lighting, stadium lighting, sports lighting, factory lighting, warehouse lighting, gas station lighting, and tunnel lighting. Our solutions are designed to provide efficient and reliable illumination, enhancing safety and visibility in these environments.
Frequently Asked Questions
We know you might have more questions, so here's a list of the questions we get asked the most about Stadium Flood Lights.
Contact Us Right Now!
*Your privacy is respected, and all information is secure.