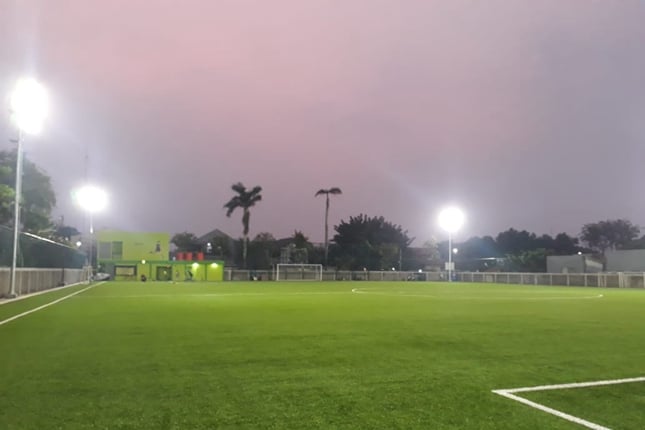 LED flood lamps for football stadium in Indonesia
This is an example of LED flood lamps for a football stadium in Indonesia, completed in 2020. The H Series outdoor LED floodlights were selected, which consume less energy than traditional metal halide or high-pressure sodium lamps. H series floodlight adopts a modular plug-in design, easy maintenance, and replacement, IP66 waterproof rating, and IK10 anti-collision rating, very suitable for outdoor sports field lighting. Symmetric and asymmetric spectrum optional.
Client Feedback In This Project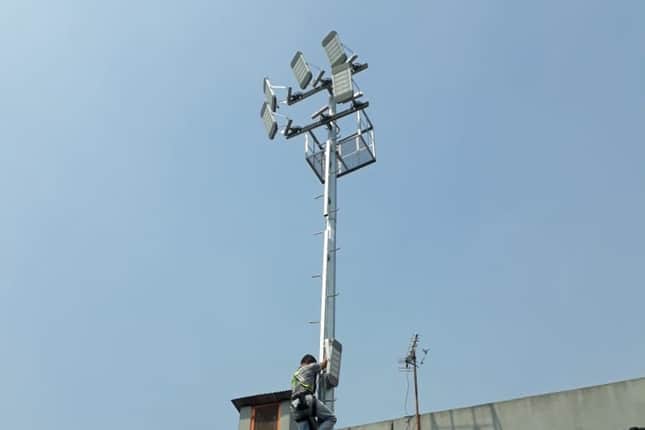 The Problem
Conventional metal halide lamps have low energy efficiency.
Gold halide lamps dissipate excess energy in the form of infrared and ultraviolet rays, which can affect people.
The light distribution performance of gold halide lamps is difficult, large waste, uneven spots, need a large reflector, and a large volume of the lamp.
The traditional metal halide lamp is easy to overload because the power of the lamp changes with the voltage fluctuation of the grid.
The Solutions
LED flood lamps provide bright, energy-efficient, and long-lasting lighting while being environmentally friendly, making them the best choice for any football stadium. This football field is mainly used for training. The lighting contrast requirement of a football field lighting is not as high as that of a professional field. Therefore, the customer chooses H series floodlights. The wide beam Angle provides excellent lighting for the entire court, with even light spots.
project Details
| | | | |
| --- | --- | --- | --- |
| Product | Model | CCT/ Optics | Quantity |
| 200w LED flood lamps | ZGSM-FGD240H5 | 5000K, 60° | 200pcs |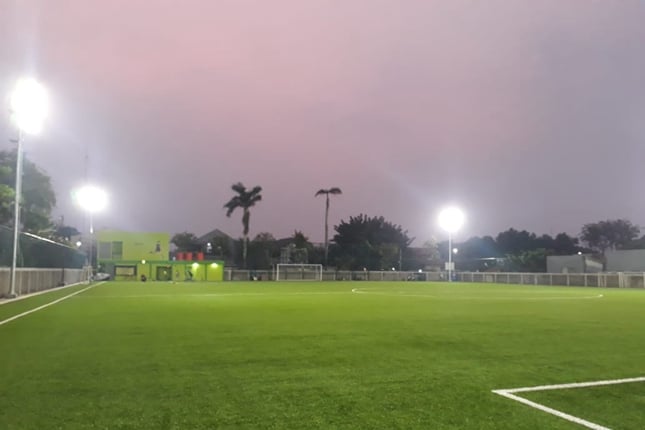 The Result
The installation of LED flood lamps on the football training ground meets the lighting needs of the athletes' training at night and also brings a good visual experience to the audience. The use of LEDs reduces light pollution and saves energy consumption while having high light efficiency. The customer was very satisfied with the installation of the LED floodlights, believing that it was a green, energy-efficient and efficient project.
ZGSM offers comprehensive lighting solutions
For various scenarios including street lighting, urban lighting, highway lighting, parking lot lighting, stadium lighting, sports lighting, factory lighting, warehouse lighting, gas station lighting, and tunnel lighting. Our solutions are designed to provide efficient and reliable illumination, enhancing safety and visibility in these environments.
Frequently Asked Questions
We know you might have more questions, so here's a list of the questions we get asked the most about led outdoor street lighting.
Contact Us Right Now!
*Your privacy is respected, and all information is secure.