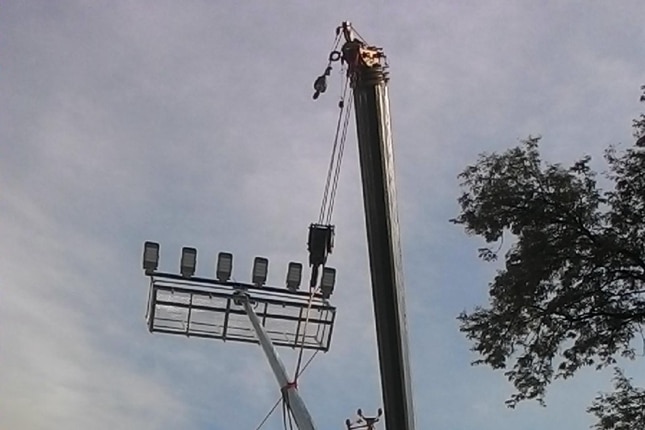 Outdoor flood light fixture for container yard in the Philippines
This is an example of an Outdoor Flood Light Fixture used in a container stack, using ZGSM's H Series floodlights/factory lights. H Series floodlights can be installed for a variety of applications, including light poles, tall poles, wall installations, zones, plazas, and indoor or outdoor stadiums. Floodlights should be bright enough to properly illuminate the container stacking area and provide good visibility for workers. The coverage should be wide enough to effectively illuminate the entire area.
Client Feedback In This Project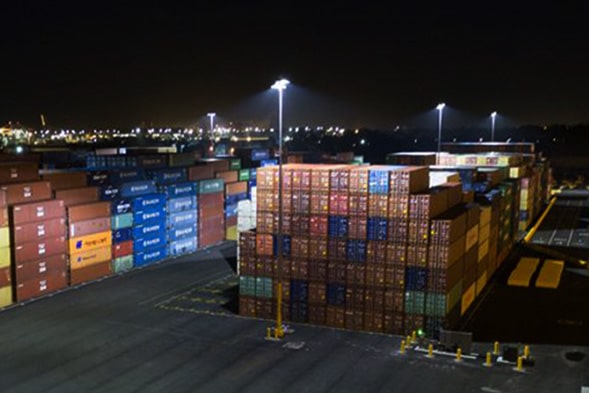 The Problem
The high-pressure sodium lamps used previously have a short service life and cost a lot to replace and upgrade.
Compared with high pressure sodium lamp, the color rendering index of LED lamp can reach more than 80, which is quite close to natural light. Under such light, the recognition function of human eyes can be effectively played, so as to ensure the road safety.
High pressure sodium lamp uses mercury vapor luminescence. If it cannot be treated effectively after the light source is discarded, it will inevitably cause corresponding environmental pollution.
The Solutions
Outdoor Flood Light Fixture is designed to produce high levels of brightness to cover large areas. The H Series floodlights selected by customers adopt a modular design, the number of modules and power can be customized according to the actual situation. Featuring high-end programmable LED drivers, integrated dimming features, and 6KV /10KV surge protection, the lamps are designed to consume minimal power while still providing high-quality lighting. Outdoor floodlight fixture with a long service life means they require minimal maintenance and are a cost-effective outdoor lighting solution. Flexible adjustable support to meet different mounting and irradiation angles.
project Details
| | | | |
| --- | --- | --- | --- |
| Product | Model | CCT/ Optics | Quantity |
| 200w Outdoor Flood Light Fixture | ZGSM-FGD200H5 | 4000K, 110° | 30pcs |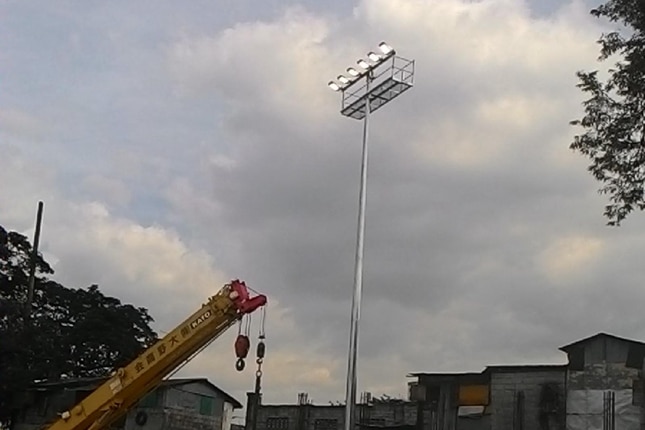 The Result
Outdoor Flood Light Fixture can be used for a variety of different purposes, including illuminating large outdoor areas, providing safety lighting, or being used to illuminate outdoor events. outdoor flood light fixtures waterproof will be exposed to the elements, so they need to be able to withstand harsh weather conditions and be durable enough to withstand impact or other damage. After using it for a period of time, the customer said that it is the best outdoor lighting product he has used so far. The high performance and high protection level are reflected in this product.
ZGSM offers comprehensive lighting solutions
For various scenarios including street lighting, urban lighting, highway lighting, parking lot lighting, stadium lighting, sports lighting, factory lighting, warehouse lighting, gas station lighting, and tunnel lighting. Our solutions are designed to provide efficient and reliable illumination, enhancing safety and visibility in these environments.
Frequently Asked Questions
We know you might have more questions, so here's a list of the questions we get asked the most about led Outdoor Flood Light Fixture.
Contact Us Right Now!
*Your privacy is respected, and all information is secure.