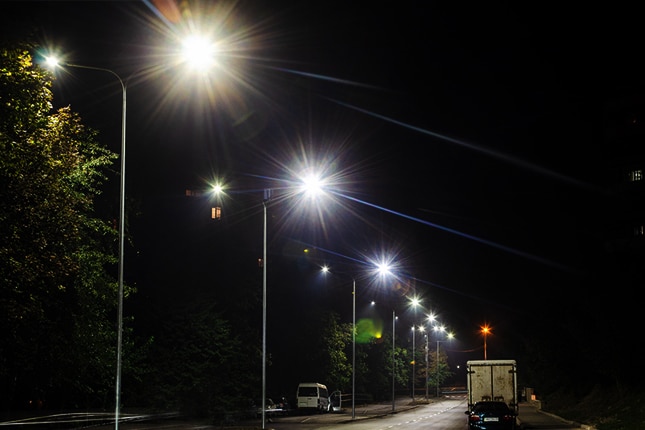 Highway lighting for Expressway in Ukraine
In 2018, the highway lighting project in Ukraine selected K series LED highway street lights. The whole body of this street lamp is made of die-cast aluminum with the appearance design of a cobra head. The high protection level is suitable for outdoor use. It can be equipped with an intelligent controller to realize remote intelligent control, saving energy and labor maintenance costs.

Highway lighting is a type of street light designed for highways and expressways. The main purpose of highway lighting is to provide a safe and clearly visible environment for motorists, especially at night or in low light conditions. Highway lighting is usually installed on both sides of highways, overpasses, underpasses, and at major intersections.
Client Feedback In This Project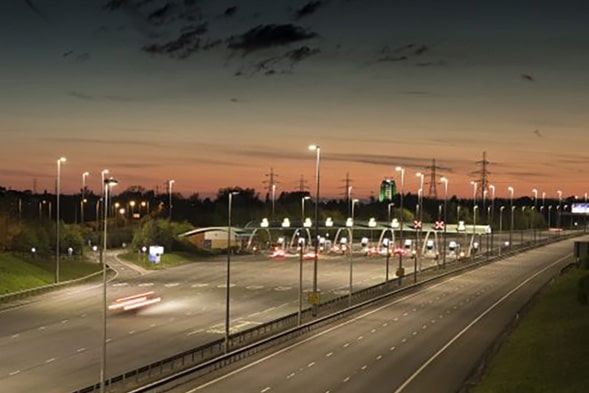 The Problem
Before the transformation, high-pressure sodium lamps were used on the highway. A lamp pole was only equipped with one lamp, which only illuminated the driveway on one side, and the pedestrian area beside the driveway was not illuminated, which affected people's travel.
The old street lamps had only one way to install them, and installation was limited.
Old highway lights are dimly lit and do not provide a safe and clearly visible environment for motorists.
Old street lamps have a short service life and are not conducive to long-term use.
The Solutions
To ensure effective highway lighting, it is important to select the correct lighting fixtures that provide adequate illumination while minimizing glare and light pollution. Proper placement and spacing of highway lighting fixtures are also important considerations. After the engineer's road lighting simulation design, it is recommended that customers choose K series LED road street lights, which are installed with double arms. Two lights are installed on one light pole. The 120W street light faces the driveway, and the 60W street light faces the sidewalk. Driveways and pedestrian areas.

project Details
| | | | |
| --- | --- | --- | --- |
| Product | Model | CCT /Optics | Quantity |
| 120W highway lighting | ZGSM-LD120KM | 2M, 4000K | 733pcs |
| 60W LED highway street lights | ZGSM-LD60KM | 1M, 4000K | 359pcs |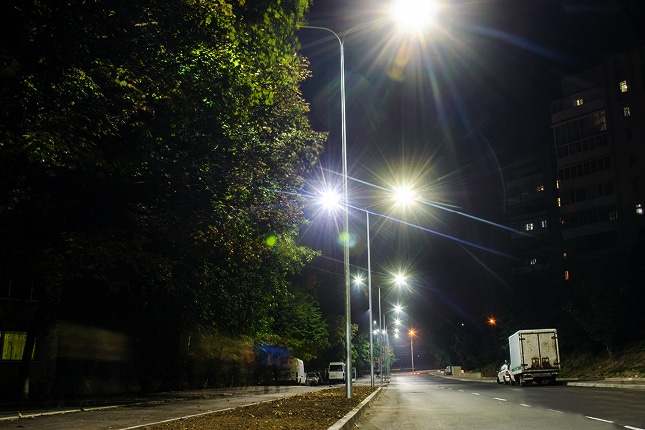 The Result
Proper highway lighting is essential to ensure the safety and comfort of drivers and other road users, especially during periods of low visibility such as at night or in adverse weather conditions. After the upgrading of street lamps throughout the project, our customers spoke highly of the lighting performance of the lamps in the project.
ZGSM offers comprehensive lighting solutions
For various scenarios including street lighting, urban lighting, highway lighting, parking lot lighting, stadium lighting, sports lighting, factory lighting, warehouse lighting, gas station lighting, and tunnel lighting. Our solutions are designed to provide efficient and reliable illumination, enhancing safety and visibility in these environments.
Frequently Asked Questions
We know you might have more questions, so here's a list of the questions we get asked the most about LED Highway lighting.
Contact Us Right Now!
*Your privacy is respected, and all information is secure.