8 Types of Extra Mounting Accessories For Outdoor LED Luminaires – Street Light Bracket
Introduction
Check out our guide to 8 types of extra mounting accessories for outdoor LED luminaires, including the versatile street light bracket. As is known to us it is so common that a standard led street light assembled with a 60mm diameter of mounting arm, which someone defines it as "leg", "bracket", "spigot" or "sleeves" on its original component as part of the luminaire itself. Small proportion of the luminaires use 50mm as some contractors find that there always are poles with diameter 48mm, 80mm or bigger alike.
Nowadays it is getting more and more frequently enquired about such installation issues when it comes with smaller or bigger dimensions of poles in real sites especially in Europe markets. As a part of street light luminaires I list the different street light brackets of existing ones below. It helps us understand why we need the extra mounting brackets.
| | | | | |
| --- | --- | --- | --- | --- |
| LED Luminaires | Series name | Lamp Bracket | Horizontal or Vertical | Descriptions |
| | H,H4,H5,H6 | | Both | It is roughly in 3 stages either Horizontal or Vertical mounting in 6 positions – H0, H10, H15, V0, V5, V15 |
| | Rifle | | Both | ±0-5-10-15 degrees range for adjustments to meet customer needs during installation. |
| | Kmini2 | | Neither | This model of led street light is a type of simple designs which integrates the bracket and lamp body and bracket can not be put off. |
Typical LED street lights and their own street light brackets
8 types of Extra Mounting Brackets For Outdoor LED Luminaires
As put above we will find that Kmini2 has no adjustable bracket itself. This would be a point which may exclude Kmini2 from tender works which often requires a -15 to 15 degrees adjustable street light bracket. Then we have to add an EXTRA bracket to meet this requirement which can probably improve the possibility to participate the project works.
In real projects we may have to use many such customized street light brackets for a better satisfaction from clients.
Today we are going to talk about 8 types of Extra Mounting Brackets For Outdoor LED Luminaires such as street light, flood light and high mast light.
Bracket for Wall mount and Corner mount
T type and L type bracket are mainly designated for occasions where there is no need to set poles and users consider to mount the led street light on the wall of buildings. This largely saves our space and costs to put on extra street lighting poles. It is made of high class of carbon steel Q235 and Hot dip galvanized spray treatment with which for 99% poles in the public areas. Colour could be grey or black. Corner bracket is to help install the lamp at a outdoor wall corner with a common 90° angle.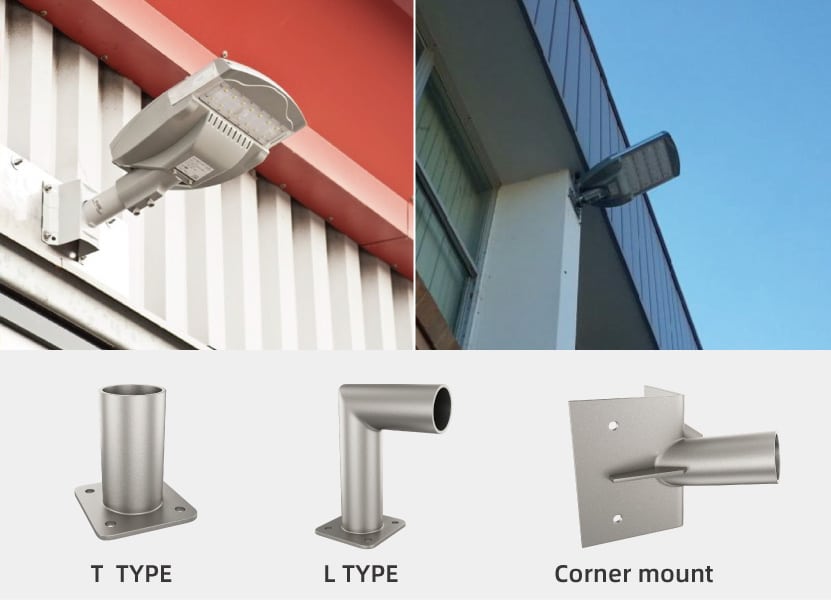 Squaretoround
Square to round 1-1
In the past we got inquires they descript that their poles are square shape with dimension of 4x4' so that we started to design such Square to Round with its Inner size of square: 4x4'(78mm) and Outer diameter of round: 60mm. It perfectly sorts this issue out and we got that job. It is also made of carbon steel.
Square to round 1-2, 1-4
It would be so clear when we see the photo and know it is used for poles with 2 lamps and 4 lamps. At this situation addtionally we designed the two versions so that people will have more options when they are coping with the specific situations.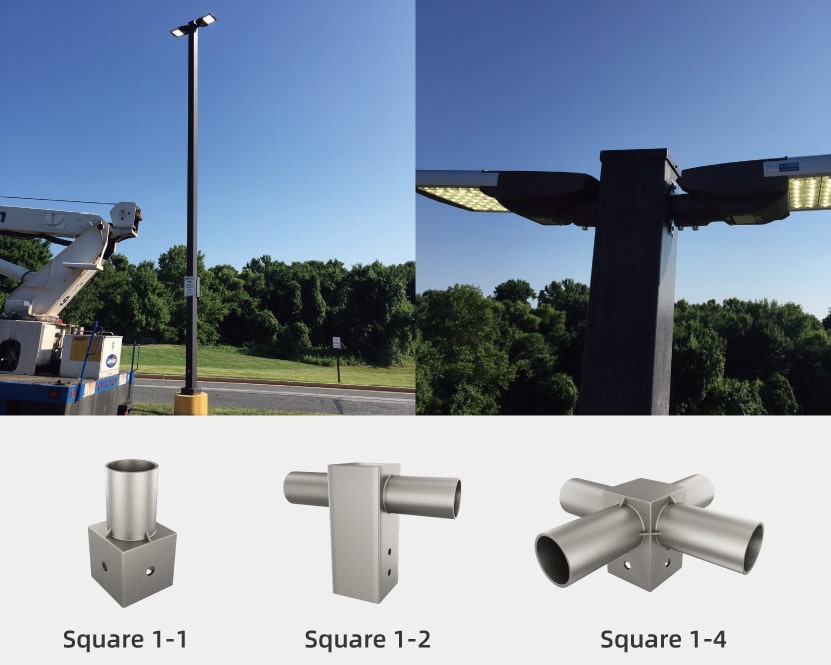 Adjustable Reducer - 78mm to 60mm
It shall be a fine option of " adjustable" street light bracket from 0° to 90° which namely is a total right angle(90 degrees). With this bracket LED street light can not only fit those poles of 80mm diameter but meets requirements like variable angles. It is very robust and of high quality. Shown as below: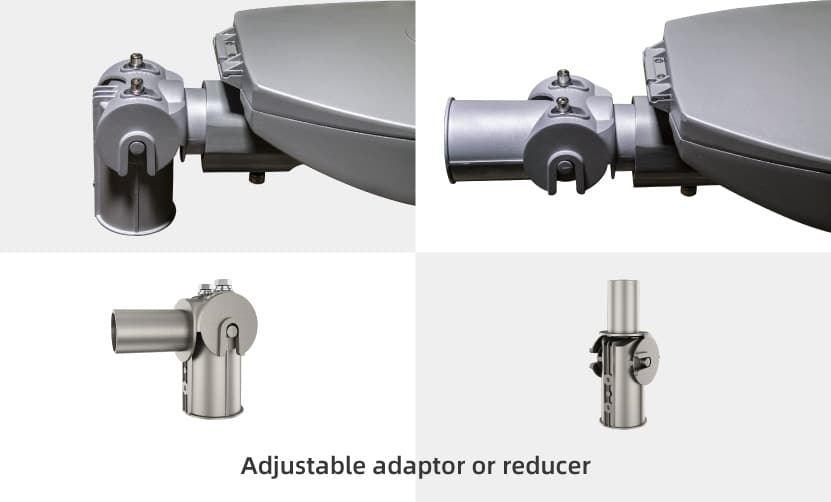 None-adjustable Reducer/increaser
Reducer- 78mm to 60mm
The shape of None-adjustable reducer is so similar as the adjustable type and it is so robust. To some extent it is really like a hand grenade. Lead time of this material is often very long because it is completely hand crafted by labor works.
Short tube - 60 to 40mm
Once ever we used this small unit in our LM series led street lights because we need confirm that the inner part can be fitted well and their existing poles however are not coming that way. While this unit is quite not so often used in the street lighting projects.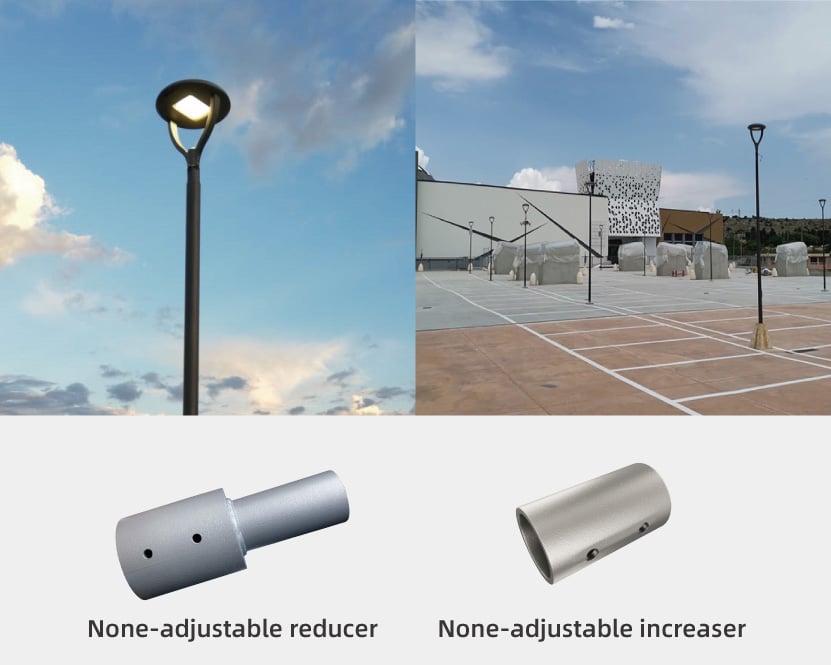 Round to Round type 60mm for post top mount 1-1 ,1-2, 1-3, 1-4
High-pressure die casting aluminum, superior material, sturdy and durable. It can be used for Φ60mm poles, meeting the requirements for both Φ50mm and Φ60mm luminaire filter. Poles which are designed with multiple arms are most often used in outdoor parking lots, public warehouses and even public plazas. As the wide and even illumination distribution are highly required there. We have a real project finished in Sweden with a 1-3 bracket please see below.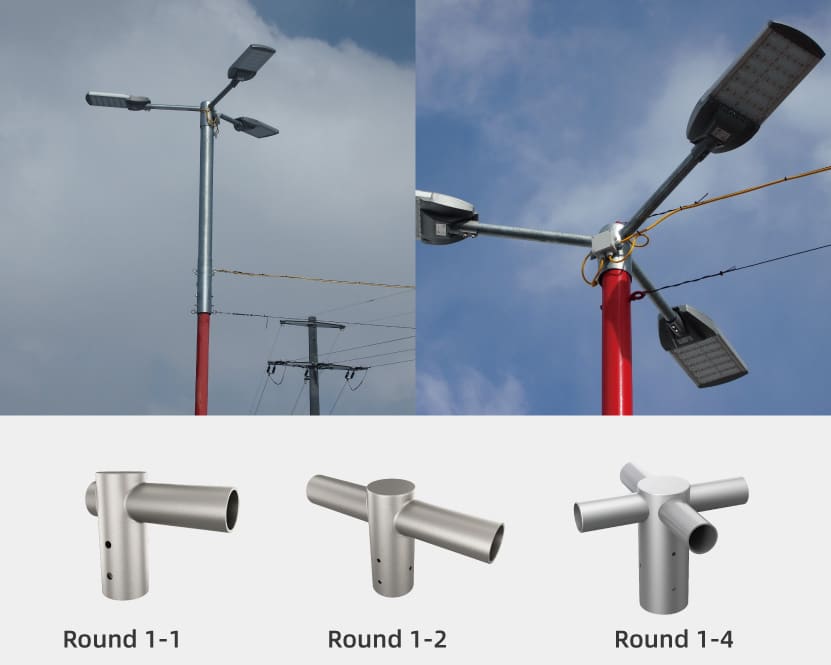 Plate base(pole to bracket) for LED flood lights
A floodlight is a broad-beamed, high-intensity artificial light. They are often used to illuminate outdoor playing fields while an outdoor sports event is being held during low-light conditions. More focused kinds are often used as a stage lighting instrument in outdoor play courts or indoor stadiums. This plate base works as an auxiliary part for floodlight installation work.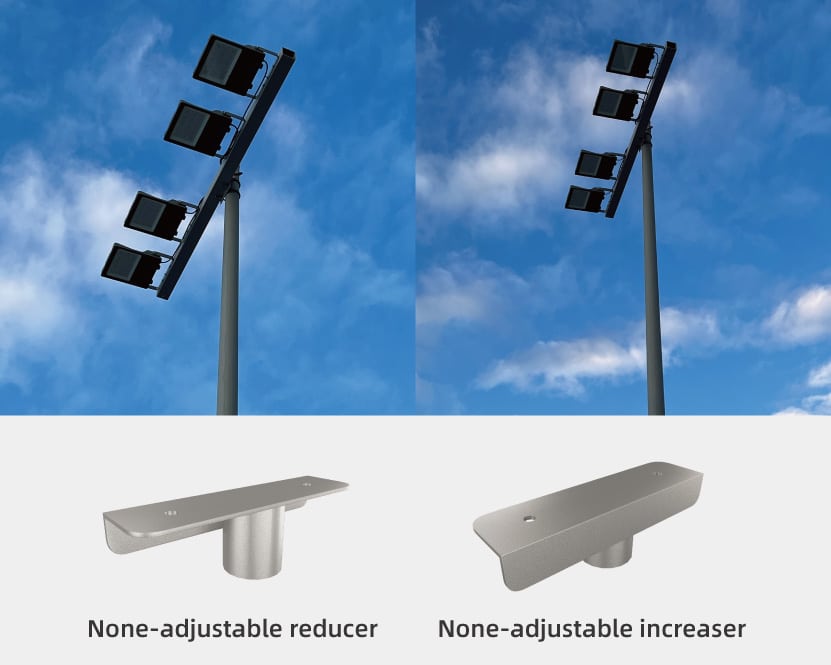 Clamps
With this clamp bracket the led luminaire can give warmly hug to the mounting post. It is so slight and looks thin part. We can install the led street lights on existing electricity poles or wooden material posts.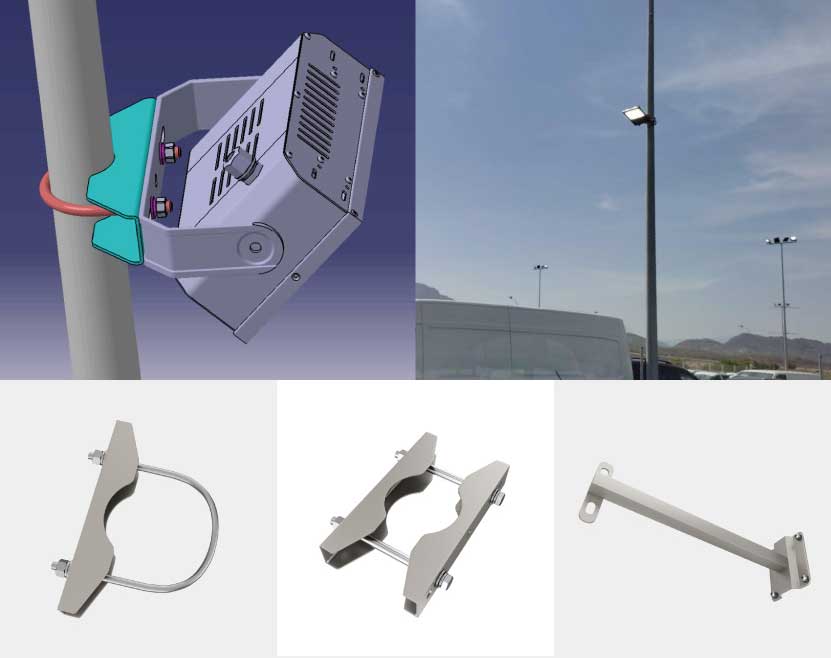 Cover plate box for pole protection
I believe you will never know what is above unit used for before reviewing its name and real photo. Yes it is used for protecting the pole base. With a key this box can be splited into two parts and a pole can be inserted .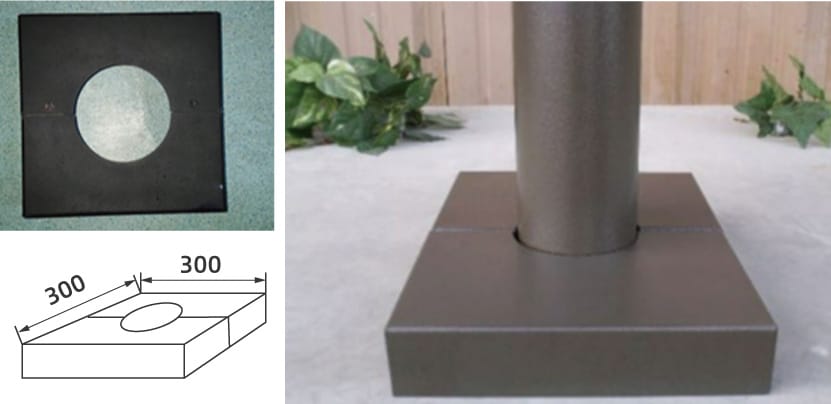 Summary
All mentioned lighting accessories are most not available in our warehouse because they are really sort of customized products. While they are durable and reliable materials as an important role in outdoor or indoor LED lighting projects. However, we have a wealth of designs to help customers design and produce suitable solutions(street light brackets and other brackets for flood lights) as soon as possible. Dimensions can also be designed as per your desire and specific requests. Prices will vary in different sizes and quantities. Anyway if you have any other types of requests please contact us for further discussion and study.
Related Posts
Discussion on SPD for street light and its warranty Emily Jin Introduction With the deepening development of LED technology, an...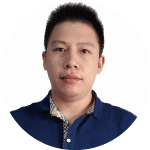 Hi I am Zuck and I'ven been focused on LED lighting since 2016. I feel enthusiastic to work together with people and provide positive proposals and tendering/bidding supports for you including works not only customized requests and parameters required in documents but also even production, installation advices and shipment tracking of your cargos. Looking forward to hear from you soon.
Email: [email protected]

Whatsapp: +86 173 0174 1840