LED Football Field Lighting
Football Field Lighting using ZGSM Lighting
The technology used by ZGSM Lighting is suitable for football field lighting. These LED luminaires are among the most effective lighting alternatives on the market, and they don't require replacement for many years. Field Changeable Lenses and Drivers and the Quick Connect/Disconnect System allow replacing them as easy as possible when you do need to.
Because of the outstanding colour rendering provided by the ZGSM Lighting, players and viewers see colours as they were intended to be viewed. With a CRI > 85, these luminaires have the best colour rendering index in their category. They have a URG-19 and are also glare-free lights. Both players and spectator vision are enhanced by this combination.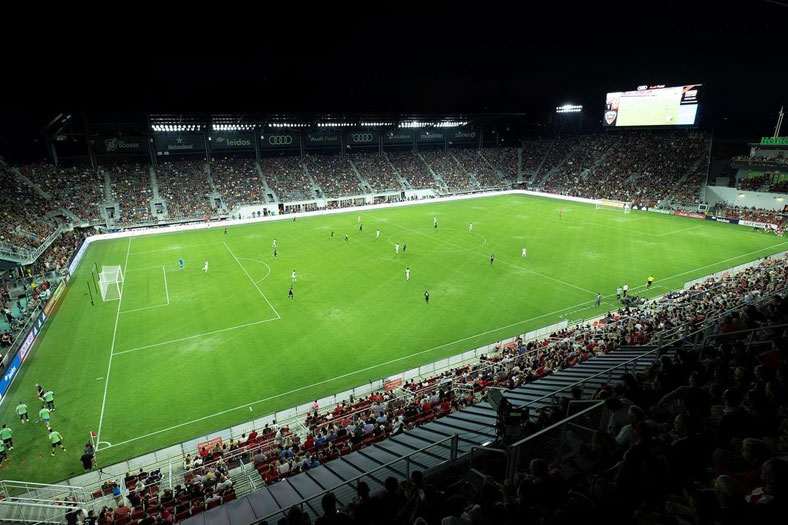 Needs for Football Field Lighting
You must make sure that a football field is properly lit before using it for nighttime games. The sort of play, whether or not spectators are present, and the size of the field all influence how much light is used. Without spectators, you'll need at least 30 footcandles of horizontal target illumination on a typical 180 x 330-foot field. A professional-level stadium requires at least 75 footcandles to be lit. The requirement grows when fields get bigger or more spectators are added.
You must install the lighting in the proper location and with the proper mounting hardware in addition to having enough of it. Galvanised steel is required by the US Soccer Foundation for both the poles and mounting assembly. Place all poles at least 20 feet from the sidelines to reduce the danger of injury to players. Mount the lights high enough to prevent light from reflecting off the field itself and causing glare.
Finally, think about the light's quality. Soccer is one of the nocturnal sports where two things are crucial. Glare is first. Glare on the field makes it difficult for players to perform successfully and might make it difficult for spectators to completely enjoy the game. Look for glare-reducing lighting options.
Second, how colours are shown matters. The majority of light has a colour, and the colour cast can make it challenging to discern player outfits and details. Make sure team colours are displayed correctly and choose lighting that produces colours that are comparable to those of natural sunshine.
Football Field Lighting: The Importance of Longevity and Durability
The durability of the lights selected is another crucial factor for the experts in charge of maintaining soccer pitches. Less time is spent replacing lamps or bulbs the longer a light lasts. Since football fieldlighting is frequently installed on a tall pole, changing the bulbs requires a lot of time and effort. It is crucial to have lighting that is durable and immune to damage caused by impact, weather, and dust.