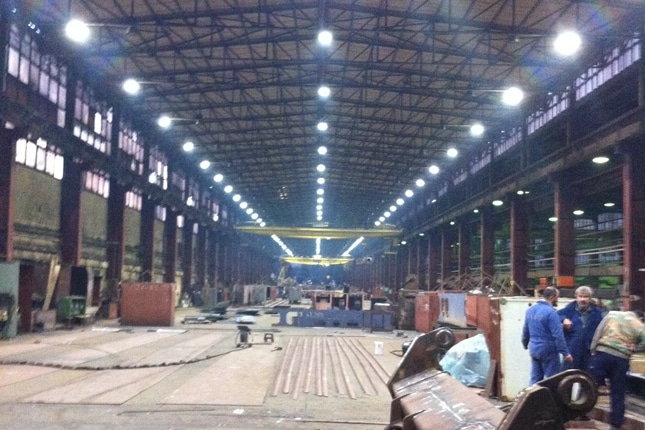 Flood led light for shipyard in Croatia
The shipyard workshop flood LED light renovation project completed in Croatia in 2014 used HB series LED floodlights produced by ZGSM. LED floodlights offer significant advantages in shop lighting over previously installed gold halide lamps, including high energy efficiency, long life, instant lighting, better color rendering, and durability. After the renovation and upgrading of LED floodlights in the workshop, the lighting effect is significantly improved, and the whole workshop is bright and comfortable, bringing a pleasant working scene to employees.
Client Feedback In This Project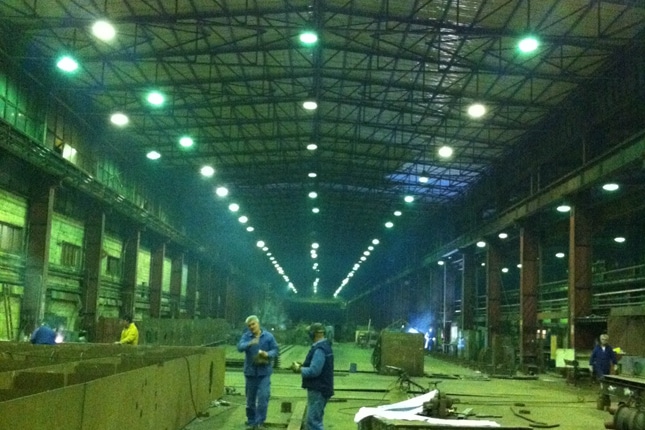 The Problem
Gold halide lamp is not energy-saving enough, there is a waste of resources.
Gold halide lamp has a short service life and requires frequent replacement and maintenance.
The low color index of gold halide lamps can not display the lighting color and details well.
The Solutions
Based on lighting requirements, ZGSM recommends 160W flood LED light to replace the 400W gold halide lamps. LED floodlights are more energy efficient than halogen lights. They use up to 80 percent less energy, which helps reduce electricity bills and save money in the long run. LED floodlights have a longer life than gold halide lamps. Their service life can be extended by up to 10 times, reducing the need for frequent replacement and maintenance.

LED floodlights provide a better color rendering index (CRI) than gold halide lamps, which means they can accurately display color and detail, making workshop work easier. LED outdoor flood lights are more durable than halogen lights. They are resistant to shock, vibration, and temperature changes, making them ideal for use in workshop environments.
project Details
| | | | |
| --- | --- | --- | --- |
| Product | Model | CCT /Optics | Quantity |
| 160W Flood led light | ZGSM-GCD160HB | 5000K, 90° | 81pcs |
| 160W flood light | ZGSM-GCD160HB | 5000K, 110° | 41pcs |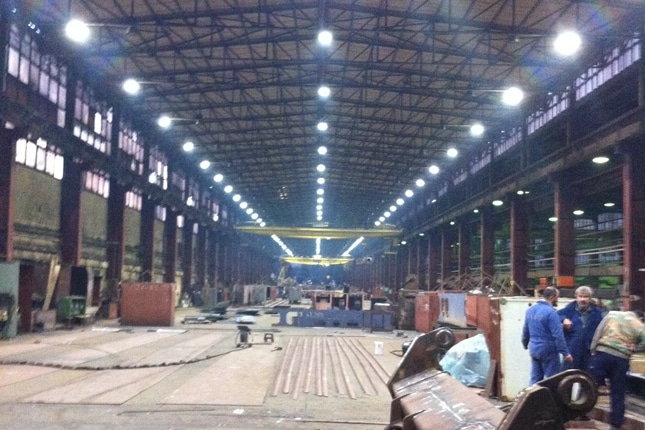 The Result
Flood LED light provides a brighter, more uniform lighting environment, reducing the risk of accidents and injuries in the workshop. Overall, there are significant advantages to using LED outdoor flood lights in the workshop, including energy efficiency, long life, better visibility, reduced heat output, durability, and increased safety. Through the photos shared by the customer before and after the lighting transformation, it can be seen that the lighting effect after the transformation is remarkable, and the customer is very satisfied with it.
ZGSM offers comprehensive lighting solutions
For various scenarios including street lighting, urban lighting, highway lighting, parking lot lighting, stadium lighting, sports lighting, factory lighting, warehouse lighting, gas station lighting, and tunnel lighting. Our solutions are designed to provide efficient and reliable illumination, enhancing safety and visibility in these environments.
Frequently Asked Questions
We know you might have more questions, so here's a list of the questions we get asked the most about Outdoor floodlights.
Contact Us Right Now!
*Your privacy is respected, and all information is secure.