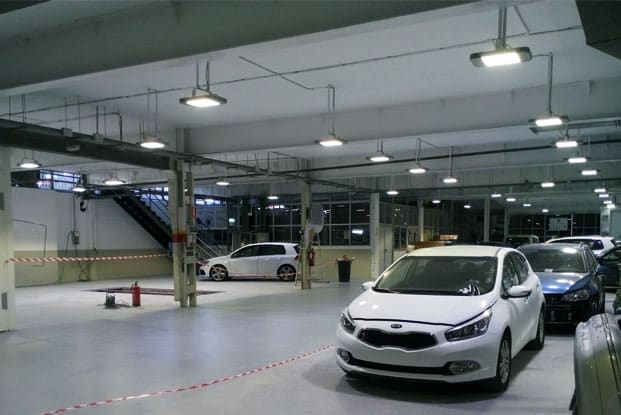 High Bay LED Light Fixtures For Garage Lighting In Spain
This high bay led light fixtures project is located in a garage in Spain and will be completed in 2020. High bay LED fixtures are an excellent choice for garage lighting, especially for large commercial or residential garages where ceiling heights are typically 15 to 45 feet. For garages used as workspaces or storage areas where good visibility is critical, High Bay LED lights provide excellent, cost-effective lighting. Whether in a home workshop, commercial maintenance garage, or vehicle storage facility, high bay LED lighting can make a significant improvement. Additionally, many LED high bay lights have dimmable and motion sensor capabilities, adding to their versatility and utility.
Client Feedback In This Project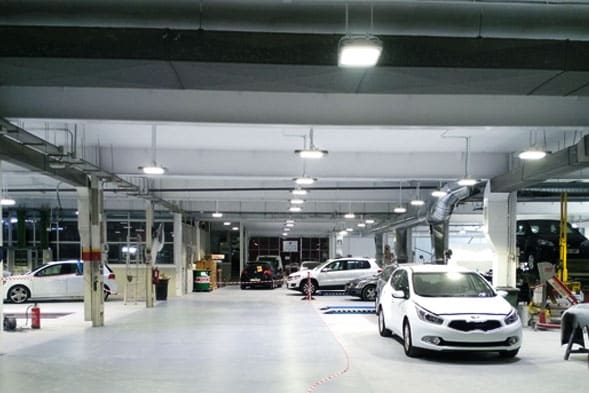 The Problem
Older fixtures only have a narrow beam angle and cannot illuminate a wide area.
Traditional fixtures cannot be intelligently managed, increasing labor costs.
Traditional lamps have poor heat dissipation, which can lead to accidents caused by overheating of the lamps after prolonged use.
The dim light of old fixtures is not conducive to the work of workers and affects work efficiency.
The Solutions
high bay led light fixtures come in a variety of shapes and sizes – including linear bay lights, UFO high bay, and panel styles – giving you the flexibility to choose the fixture that best suits your garage layout. Based on our customer's situation, we recommend the H-Series LED industrial lights for garage lighting. The whole light adopts a modular design, which is easy to install and maintain. Adjustable bracket meets different irradiation angles, multiple beam angles and color temperatures are optional. The high bay LED light provides bright, clear, and evenly distributed light for easy work on vehicles or large machinery, improving visibility and thus safety.
project Details
| | | | |
| --- | --- | --- | --- |
| Product | Model | CCT/ Optics | Quantity |
| 160W high bay led light fixtures | ZGSM-GCD160H | 5000K/ 110° | 58pcs |
| 200W high bay led light fixtures | ZGSM-GCD200H | 5000K/ 110° | 2pcs |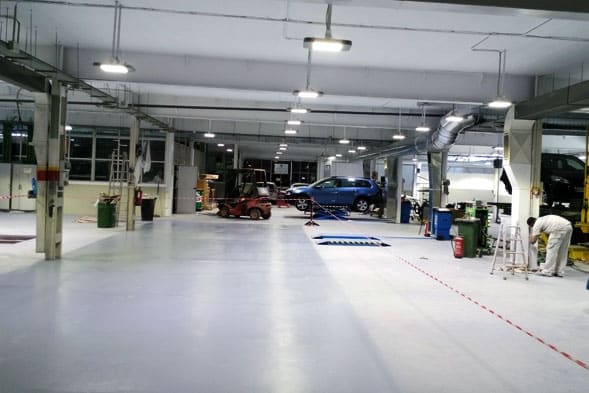 The Result
The difference between before and after replacement is very noticeable. The lights are not contaminated with dust. Customers report excellent uniformity of light and are very happy with the lighting results. LED lights produce less heat than traditional incandescent bulbs, so they don't overheat the garage. They are also dimmable, allowing you to adjust the brightness as needed. High Bay LED fixtures are a great choice for garages because they are affordable, efficient, and provide excellent lighting for your garage.
ZGSM offers comprehensive lighting solutions
For various scenarios including street lighting, urban lighting, highway lighting, parking lot lighting, stadium lighting, sports lighting, factory lighting, warehouse lighting, gas station lighting, and tunnel lighting. Our solutions are designed to provide efficient and reliable illumination, enhancing safety and visibility in these environments.
Frequently Asked Questions
We know you might have more questions, so here's a list of the questions we get asked the most about high bay led light fixtures.
Contact Us Right Now!
*Your privacy is respected, and all information is secure.