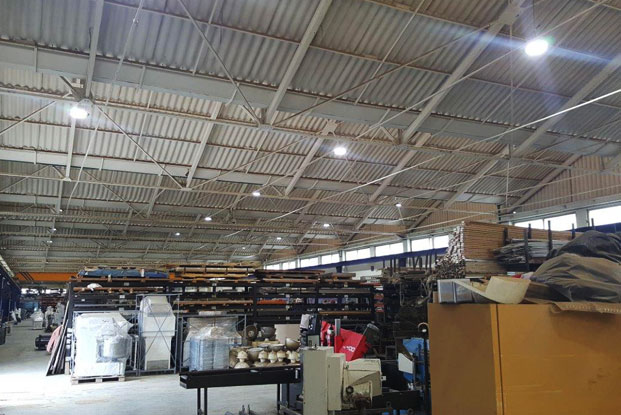 UFO High Bay Light For Factory Lighting In Lebanon
The UFO high bay light project in a factory warehouse in Lebanon was completed in 2016. UFO high bay lights are named for their unique round shape, similar to a UFO (Unidentified Flying Object), and are designed to be installed on high ceilings (usually 20 feet or higher). They are especially suited for large open spaces such as factories, warehouses, gymnasiums, and retail stores.
Client Feedback In This Project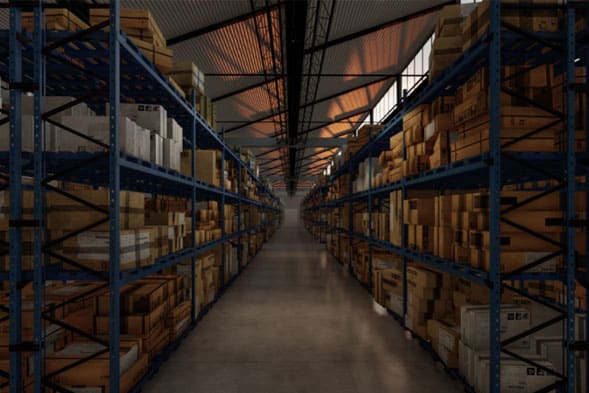 The Problem
High energy costs are a problem due to the inefficiency of HPS lights.
Inconsistent lighting throughout a facility makes it difficult for employees to perform tasks and increases safety hazards.
High Pressure Sodium (HPS) lamps have a short lifespan and require frequent and expensive replacement. The excess heat generated by these lamps also added to the overall discomfort within the workspace.
The Solutions
ZGSM recommends customers use M series 150W ufo Industrial High Bay LED Lights, 5700K natural white light makes the warehouse brighter, with comfortable color temperature and soft light, even for long time working in the factory, it will not cause visual fatigue, UFO high bay light has mounting ring and bracket options, which makes it easier to install to the ceiling or surface, UFO high bay light adopts a stylish and compact design, and it has a cleaner appearance than the traditional high bay fixtures.

UFO High Bay Lights feature a sleek, compact design that provides a cleaner look than traditional high bay fixtures. These lights are designed with an effective heat sink system that manages the heat dissipation from the fixture, further extending its lifespan. Comes with a dimmable option that allows you to adjust the brightness level according to your lighting needs.
project Details
| | | | |
| --- | --- | --- | --- |
| Product | Model | CCT/ Optics | Quantity |
| 150W UFO High Bay Light | ZGSM-UFO150M | 5700K/ 110° | 120pcs |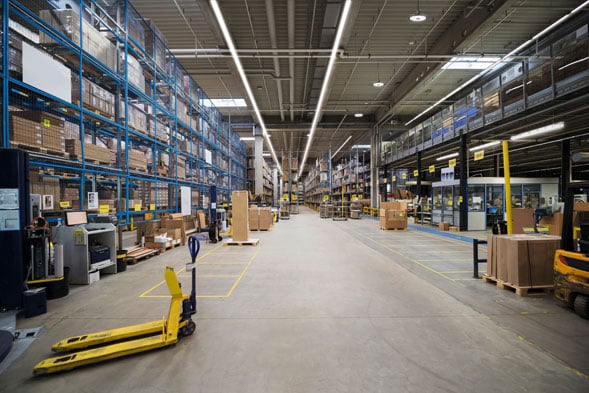 The Result
Converting to UFO high bay LED lights has significantly reduced energy consumption by approximately 76%, resulting in a significant reduction in energy costs. The improved lighting conditions promote a safer work environment by eliminating dark spots and improving visibility. LED lamps also have a longer lifetime, which significantly reduces maintenance and replacement costs. Lights are strategically installed throughout the facility to ensure even light distribution. The company also installed motion detectors to improve energy efficiency during non-operating hours. In addition, because LED UFO high bay lights emit less heat, workers' working conditions become more comfortable.
ZGSM offers comprehensive lighting solutions
For various scenarios including street lighting, urban lighting, highway lighting, parking lot lighting, stadium lighting, sports lighting, factory lighting, warehouse lighting, gas station lighting, and tunnel lighting. Our solutions are designed to provide efficient and reliable illumination, enhancing safety and visibility in these environments.
Frequently Asked Questions
We know you might have more questions, so here's a list of the questions we get asked the most about LED UFO High Bay Light.
Contact Us Right Now!
*Your privacy is respected, and all information is secure.