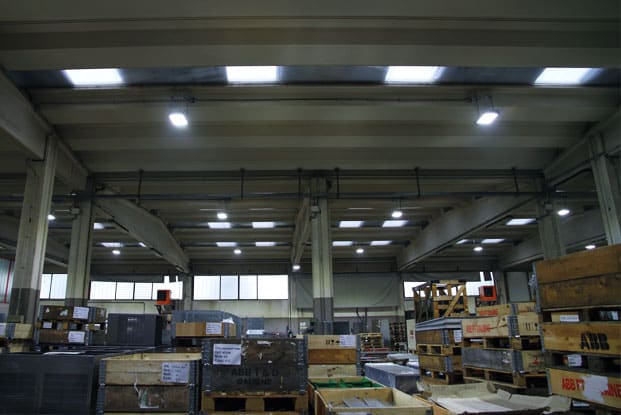 Warehouse Light For Factory Lighting In Italy
The project of warehouse light applied to workshop lighting in Italy was completed in 2017. Warehouse lighting is an important aspect of creating a safe and productive work environment in a large storage facility. Factory lights are designed to provide optimal illumination in all areas, including aisles, racks, loading docks, and packing stations. Different types of lighting fixtures can be used in warehouses, including LED high bay, linear fluorescent, or metal halide. LED high bay lights are often favored for their energy efficiency, long life, and excellent brightness.
Client Feedback In This Project
The Problem
The client company was facing high energy costs due to inefficient metal halide lamps.
The lights were also inconsistent, creating shadows and areas of glare that posed a safety risk to employees.
Metal halide lamps require regular and expensive maintenance due to their short lifespan.
The heat emitted from these metal halide lamps also caused the work environment to warm up, making employees uncomfortable.
The Solutions
As a cost-effective solution, the client decided to switch to LED warehouse light. An initial audit was carried out to identify areas of low light and the H5 series 240W LED high bay lights were selected to replace the 1000W metal halide. The H series Industrial LED high bay lights are modular in design, with 5 modules, a 110 degree beam angle, and a mounting height of 8m. The placement of the LED lights was carefully designed to obtain the proper illumination. Occupancy sensors were also installed to enhance energy savings during periods of inactivity.
project Details
| | | | |
| --- | --- | --- | --- |
| Product | Model | CCT/ Optics | Quantity |
| 240w Warehouse Light | ZGSM-GCD240H5 | 5700K /110degrees | 233pcs |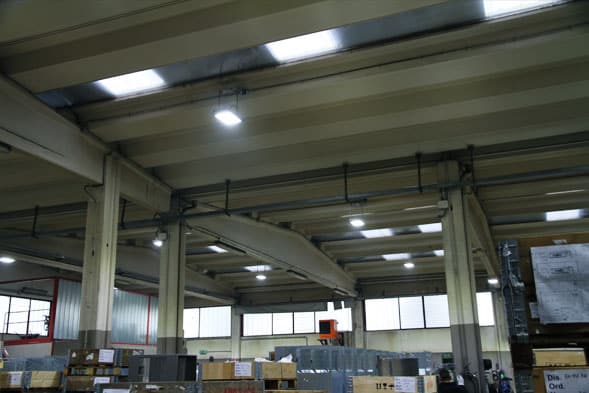 The Result
After the installation, the customer noticed a significant reduction in energy consumption of about 75%, resulting in lower energy costs. Maintenance and replacement costs also decreased as the LED lights lasted longer. The elimination of shaded areas provides a safer work environment and improves the employee experience due to better lighting and cooler working conditions. Occupancy sensors also contribute to further energy savings when certain parts of the warehouse are not in use.
ZGSM offers comprehensive lighting solutions
For various scenarios including street lighting, urban lighting, highway lighting, parking lot lighting, stadium lighting, sports lighting, factory lighting, warehouse lighting, gas station lighting, and tunnel lighting. Our solutions are designed to provide efficient and reliable illumination, enhancing safety and visibility in these environments.
Frequently Asked Questions
We know you might have more questions, so here's a list of the questions we get asked the most about LED Warehouse Light.
Contact Us Right Now!
*Your privacy is respected, and all information is secure.