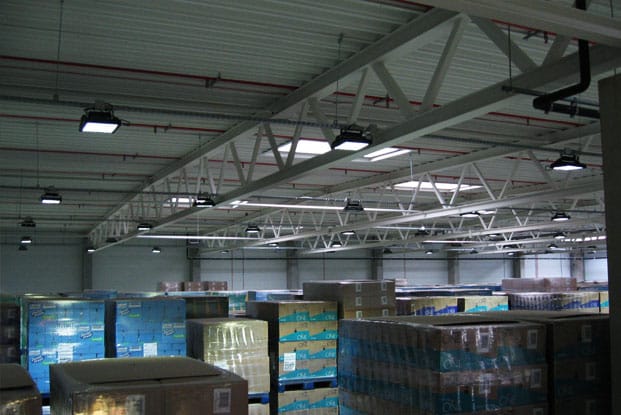 High Bay LED Shop Lights In A Food Warehouse In Hungary
The Hungarian Nescafe high bay LED shop lights project was completed in 2010. High bay LED shop lights are specially designed lighting fixtures for use in areas with high ceiling heights such as warehouses, factories, gymnasiums, and retail stores. These lights provide powerful illumination to effectively cover large spaces. In this case study, we will look at the use of high bay LED lights for lighting applications in food warehouses.
Client Feedback In This Project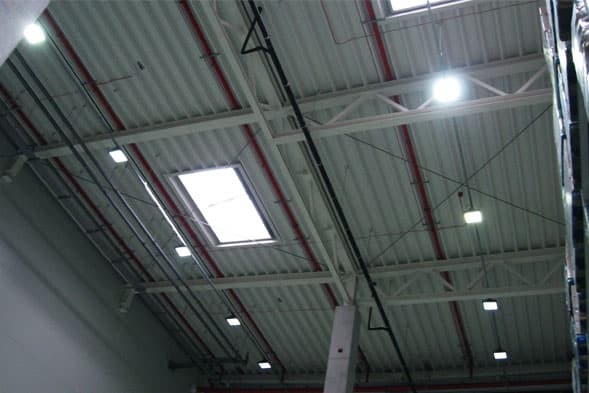 The Problem
Conventional lighting fixtures often provide insufficient levels of illumination, resulting in poor visibility and posing a safety risk to warehouse workers.
Fluorescent and metal halide lamps consume large amounts of energy, resulting in higher electricity bills and a negative impact on the environment. In addition, they have a short lifespan and need to be replaced frequently.
The quality of light produced by conventional fixtures tends to deteriorate over time, leading to reduced visibility, color distortion, and an unattractive ambiance in the warehouse.
The Solutions
To address these issues, the Food Warehouse decided to replace its existing lighting fixtures with high bay LED shop lights. The customer chose D-Series LED warehouse lighting, and the high bay LED lights can be easily installed with mounting brackets. The design of the fixtures perfectly matches the style of the warehouse. The 120-degree beam angle allows for a larger area of light and a more evenly lit area. High bay LED shop lights provide high-intensity illumination, ensuring good visibility and enhancing safety within the warehouse.
LED lights are highly energy efficient, using up to 50% less energy than conventional luminaires. This not only provides significant cost savings but also reduces the warehouse's carbon footprint. LED lamps have a longer lifespan than traditional lamps, resulting in lower maintenance costs and fewer replacements.LED lamps maintain their light output and color quality over time, providing consistent and clear lighting throughout the warehouse.
project Details
| | | | |
| --- | --- | --- | --- |
| Product | Model | CCT/ Optics | Quantity |
| 60w High Bay LED Shop Lights | ZGSM-LGCD60WD | 5700K/ 120° | 500pcs |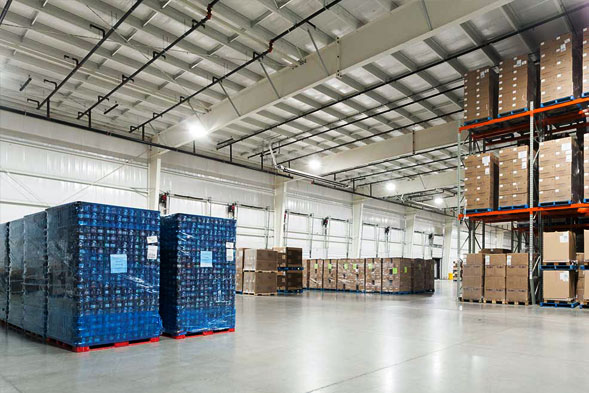 The Result
Installing high bay LED workshop lights significantly improves visibility within the food warehouse, reducing accidents and errors. The use of LED high bay lights in the food warehouse effectively solved the existing lighting problem. The warehouse has seen improved lighting, energy savings, increased productivity, reduced maintenance, and a positive environmental impact. Overall, the implementation of LED lighting proved to be a successful solution to the lighting needs of the food warehouse. We have not received any feedback on bulb damage from this project in the past 12 years.
ZGSM offers comprehensive lighting solutions
For various scenarios including street lighting, urban lighting, highway lighting, parking lot lighting, stadium lighting, sports lighting, factory lighting, warehouse lighting, gas station lighting, and tunnel lighting. Our solutions are designed to provide efficient and reliable illumination, enhancing safety and visibility in these environments.
Frequently Asked Questions
We know you might have more questions, so here's a list of the questions we get asked the most about High Bay LED Shop Lights.
Contact Us Right Now!
*Your privacy is respected, and all information is secure.