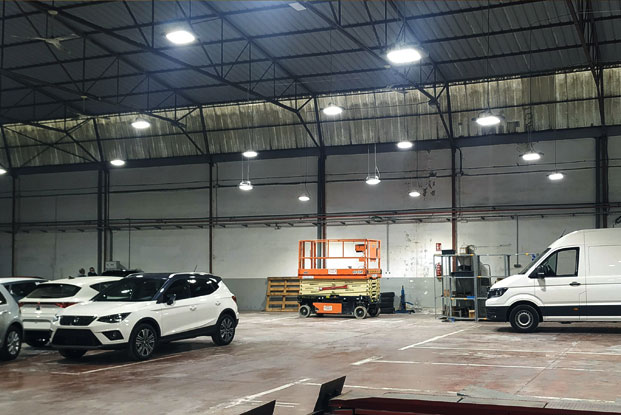 LED high bay lights for an auto repair shop in Spain
H series LED high bay lights are used in auto repair shop lighting, this project will be completed in Spain in 2020. H series LED high bay lights are an effective solution for auto repair shop lighting needs. These lamps are the perfect choice for providing high-level illumination during detailed repairs and inspections in the work area. Traditional fluorescent lamps with their high power consumption and inadequate lighting effect cannot always meet the demand. In contrast, Industrial high bay LED Lights are energy-efficient and provide even and wide illumination.
Client Feedback In This Project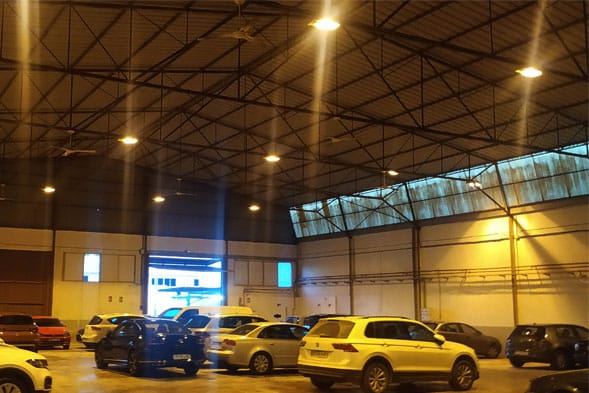 The Problem
The brightness of traditional fluorescent lamps is usually low, so they cannot provide enough illumination to meet the needs of automobile maintenance and inspection.
Long-term use of fluorescent lamps can cause flickering and chromatic aberrations, which can diminish the ability of technicians to properly assess and detect issues.
In addition, fluorescent lamps have a relatively short service life, requiring frequent replacement that increases management and maintenance costs for enterprises.
The Solutions
Therefore, we suggest the use of H series high bay lights, which come in modules with a modern design that is easy to maintain and upgrade. The excellent heat dissipation meets the needs of auto repair shops. These High Bay Lamps provide soft lighting to avoid glare, and the color temperature can be adjusted to a suitable range for work and inspection. Different installation heights can be accommodated through the optional beam angles of 60, 90, and 110 degrees. The layout structure of the luminaires has been optimized to ensure that each work area can be adequately illuminated.
project Details
| | | | |
| --- | --- | --- | --- |
| Product | Model | CCT/ Optics | Quantity |
| 160w LED high bay lights | ZGSM-GCD160H4 | 5000K, 3030 LED 110degrees | 18pcs |
| 200w LED high bay lights | ZGSM-GCD200H5 | 5000K, 3030 LED 110degrees | 32pcs |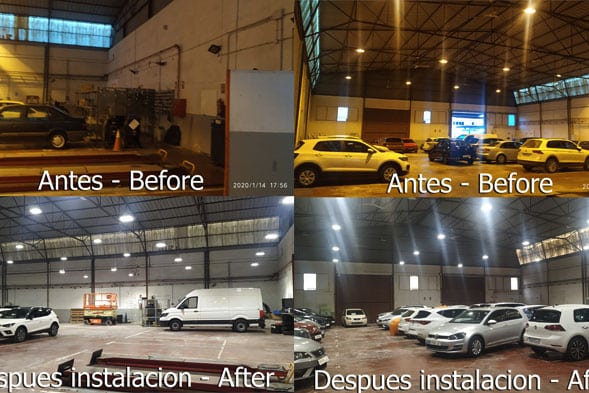 The Result
Applying these new LED high bay lights has significantly improved work efficiency, lighting effects, color temperature, glare, and energy efficiency for auto repair shops. Technicians no longer experience glare or misleading colors, enabling them to more easily identify problems and eliminate hidden hazards. The evenly distributed workshop lighting improves the comfort and efficiency of the work environment. LED high bay light fixtures are not only environmentally friendly but also energy-saving, resulting in substantial savings in electricity and lighting maintenance costs. In short, The customer is very satisfied with this product.
ZGSM offers comprehensive lighting solutions
For various scenarios including street lighting, urban lighting, highway lighting, parking lot lighting, stadium lighting, sports lighting, factory lighting, warehouse lighting, gas station lighting, and tunnel lighting. Our solutions are designed to provide efficient and reliable illumination, enhancing safety and visibility in these environments.
Frequently Asked Questions
We know you might have more questions, so here's a list of the questions we get asked the most about led high bay lights.
Contact Us Right Now!
*Your privacy is respected, and all information is secure.