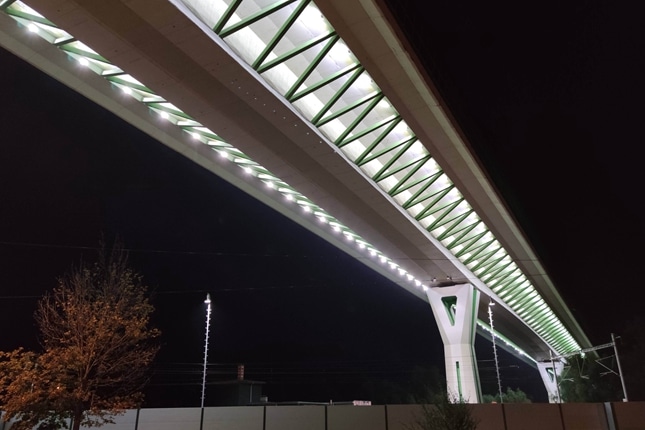 Outdoor floodlight for highway bridge in Slovakia
Slovakia's outdoor floodlight project for road Bridges was completed in 2020 after a tender from the then government. After understanding the bidding requirements, the engineers of ZGSM confirmed the selection of HB series outdoor LED floodlights together with the customer after lighting simulation design and comparison of several products. LED outdoor floodlights are ideal for illuminating large areas of Bridges, such as roads and sidewalks. They provide bright, high-quality light, have excellent color rendering, and save energy.
Client Feedback In This Project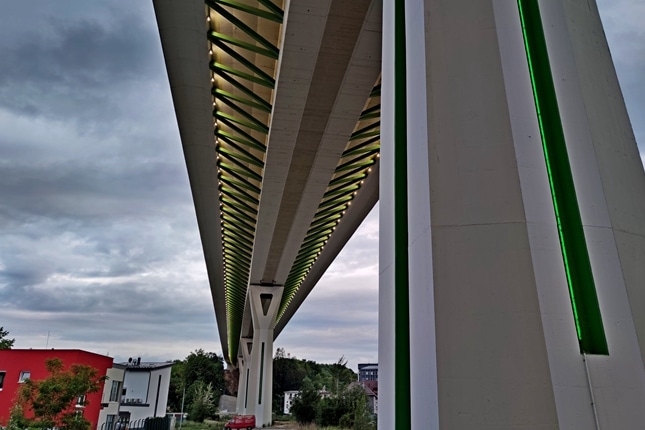 The Problem
The new highway bridge has not installed any lighting products, which affects the safe passage of vehicles and pedestrians.
Without proper lighting, Bridges can appear drab and unattractive, which negatively affects the overall aesthetics of the structure.
Lack of lighting creates unsafe conditions for drivers and pedestrians, increasing the risk of accidents and injuries.
The Solutions
HB series outdoor floodlight adopts Lumileds 3030 chip; Mingwei HLG series LED driver. Modular design and adjustable support make the whole lamp ultra-high performance and practical. Designed to withstand severe weather conditions and resist damage caused by vibration, shock, and temperature changes. The HB series is undoubtedly the first choice for both the flood light price and the performance of the floodlights. Because of this, these high quality outdoor led flood lights successfully won the bidding project. In general, HB series outdoor floodlights have the advantages of high brightness, high energy efficiency, long life, durability, flexible design, high safety, and low maintenance requirements, and are excellent lighting products for highway Bridges.
project Details
| | | | |
| --- | --- | --- | --- |
| Product | Model | CCT/ Optics | Quantity |
| 60w Outdoor floodlight | ZGSM-FGD60H6B | 5000K | 405pcs |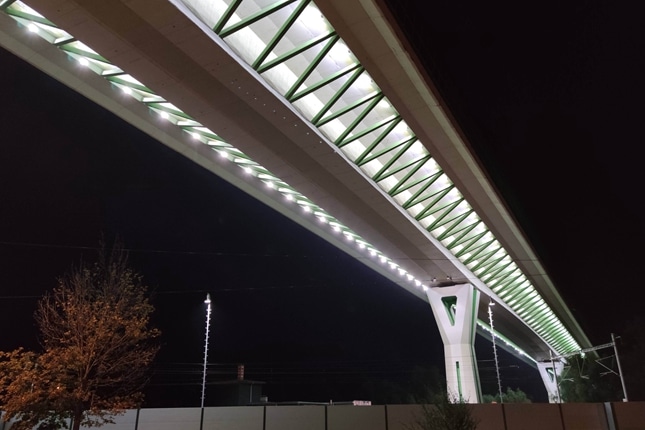 The Result
Outdoor floodlights require minimal maintenance, reducing the need for frequent repairs and replacement. Outdoor floodlights improve bridge visibility, reduce the risk of accidents and improve driver and pedestrian safety. Proper lighting also adds to the beauty of the entire bridge. Proper lighting must be installed and maintained on highway Bridges to ensure their safety and functionality. The client and the local government were very pleased with the project and look forward to working with us again.
ZGSM offers comprehensive lighting solutions
For various scenarios including street lighting, urban lighting, highway lighting, parking lot lighting, stadium lighting, sports lighting, factory lighting, warehouse lighting, gas station lighting, and tunnel lighting. Our solutions are designed to provide efficient and reliable illumination, enhancing safety and visibility in these environments.
Frequently Asked Questions
We know you might have more questions, so here's a list of the questions we get asked the most about Outdoor floodlights.
Contact Us Right Now!
*Your privacy is respected, and all information is secure.