Outdoor Stadium Lighting
From tennis courts to football fields, good lighting for outdoor stadium lighting is becoming more and more important. Though these sports are quite different in playing and enjoying, they all have one thing in common. Every single outdoor court or field requires proper illumination for safe and enjoyable gameplay. That's where ZGSM Lighting can help.
ZGSM Lighting Luminaires are the most efficient and most eye-friendly lighting options for outdoor sports courts and fields. For tennis courts lighting, basketball courts, and outdoor fields of all shapes and sizes, ZGSM Lighting provides a lighting solution that will allow safe and enjoyable gameplay, even after the sun goes down.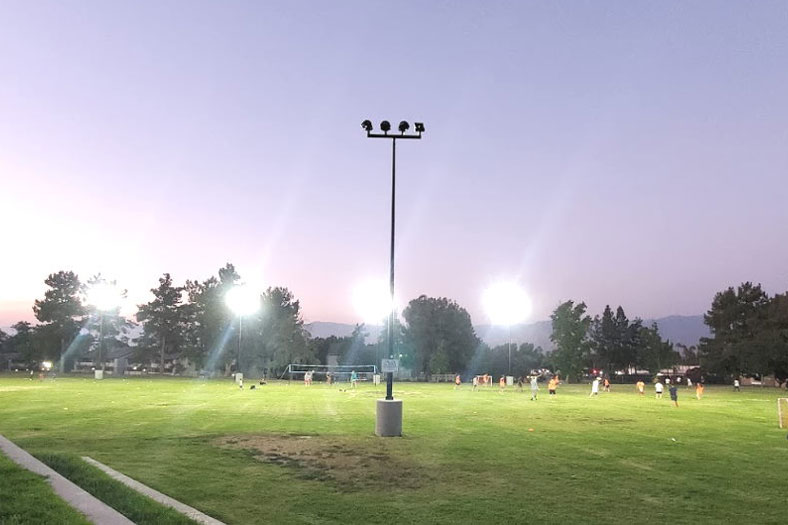 Efficient Lighting for Outdoor Sports Courts and Fields
Outdoor sports courts and fields must be lit any time someone is using them in the dark. This can add up to many hours of the lights being on, which creates high energy bills. ZGSM Lighting can cut those energy bills significantly. Operating 85 times more efficiently than other lighting options, all while delivering 140 Lumens/Watt, these luminaires will cut energy bills, helping sports venues and park districts save needed funds. Also, because they last far longer than non-LED lighting options, these luminaires reduce the costs of replacement fixtures & lamps, including the labor to replace them. By upgrading to ZGSM Lighting Luminaires, your facility will start saving right away.
Improve Safety and Performance with Increased Illumination
Not only do ZGSM Lighting cut energy and maintenance expenditures, but they also improve the visibility of the facility significantly. These luminaires have a proprietary no-glare design with a UGR<19. This means they create no eye strain and cause minimal glare. In addition, they produce a color rendering index of greater than 85 (CRI>85), close to natural sunlight and the highest for this class of luminaire. Brighter lighting with natural color will make the sports experience positive for players and fans alike.
ZGSM Lighting Luminaires are the most effective and aesthetically pleasing lighting choice for outdoor stadium lighting, including tennis courts, basketball courts, outdoor sports grounds, and others. By switching to ZGSM Lighting Luminaires, you can give players and supporters a present of greater lighting. Today, get the ideal ZGSM Flood light for your requirements.