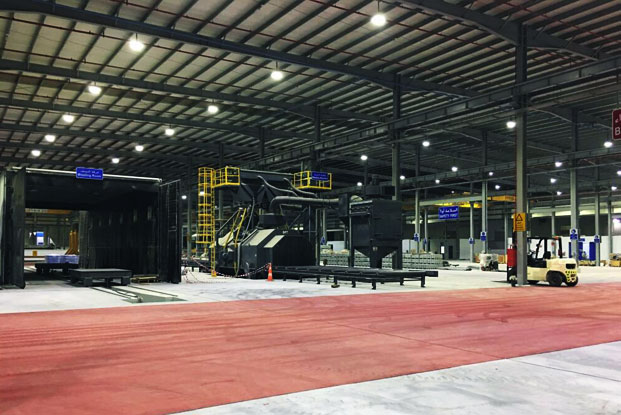 High Bay Light Fixtures For Workshop Lighting In UAE
This is a workshop lighting renovation case where High Bay Light Fixtures were applied to a production workshop in the UAE, completed in 2017. The industrial LED high bay lights produced by ZGSM are used. This high bay light can also be replaced with a long bracket and used as a floodlight. The shop's manufacturing process required high-quality lighting to allow operators to operate equipment and complete tasks accurately. Previously, the workshop used high-pressure sodium lamps, but there were a series of problems.
Client Feedback In This Project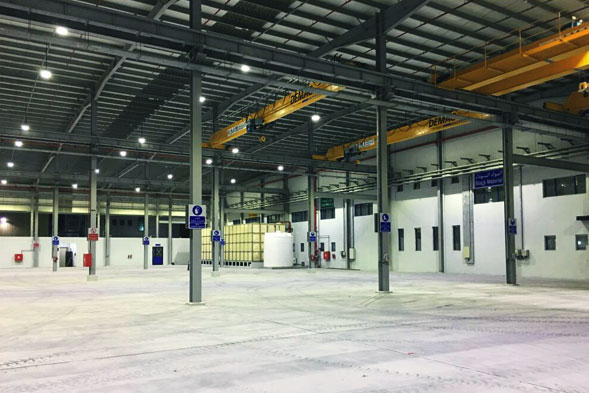 The Problem
Due to the poor light quality of the sodium lamp, its illuminance is not enough to meet the requirements of the workshop, resulting in a dark working environment, and it is difficult for the operator to see the workshop equipment or check the workshop faults that occur on the production line.
High-pressure sodium lamps consume a lot of energy when they are used for a long time, which causes enterprises to bear a large expenditure on energy costs.
Sodium lamps are relatively easy to damage, so they need to be repaired or replaced frequently, so the management and maintenance costs are relatively high.
The Solutions
In order to deal with the lighting problem in the workshop, the company chose LED high bay light fixtures for lighting upgrades. The customer replaced the previous 400W traditional high-pressure sodium lamps in the workshop and got a quick payback and saved up to 80% in maintenance and energy costs. Compared with traditional high-pressure sodium lamps, these LED high bay lights have a longer lifespan and can be extended for more years, which helps to reduce maintenance costs in the industry. The color and intensity of the LED lights remain stable, eliminating the problem of dimming and flickering of the illuminated surface that occurs with sodium lamps.
project Details
| | | | |
| --- | --- | --- | --- |
| Product | Model | CCT/ Optics | Quantity |
| 240w high bay light fixtures | ZGSM-GCD240H | 5700K, 110degrees | 400pcs |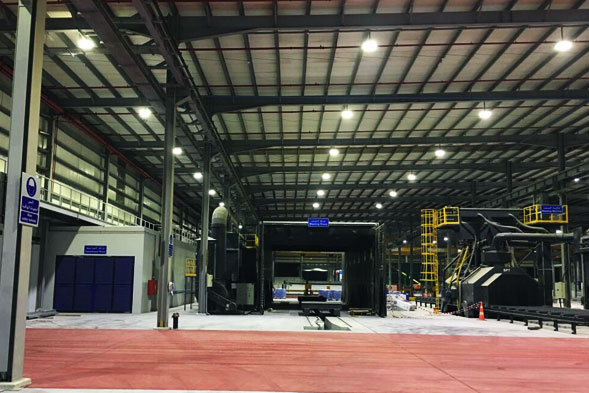 The Result
The use of LED high bay light fixtures has significantly improved the lighting effect of the production workshop. LED high bay lights provide increased illumination, giving operators a better view of line tools and parts. Research by the Federal Highway Office of the Ministry of Road Traffic shows that better lighting in workshops can reduce the time occupied by work by 10%-20%, reducing errors and defective production, and the risk of operator injury. The application of workshop LED high bay lights has brought stable, efficient, and low-cost lighting solutions to the production workshop of the company, which also shows that high bay LED lights have become the mainstream lighting for workshop lighting and warehouse lighting in today's manufacturing industry options.
ZGSM offers comprehensive lighting solutions
For various scenarios including street lighting, urban lighting, highway lighting, parking lot lighting, stadium lighting, sports lighting, factory lighting, warehouse lighting, gas station lighting, and tunnel lighting. Our solutions are designed to provide efficient and reliable illumination, enhancing safety and visibility in these environments.
Frequently Asked Questions
We know you might have more questions, so here's a list of the questions we get asked the most about LED high bay light fixtures.
Contact Us Right Now!
*Your privacy is respected, and all information is secure.