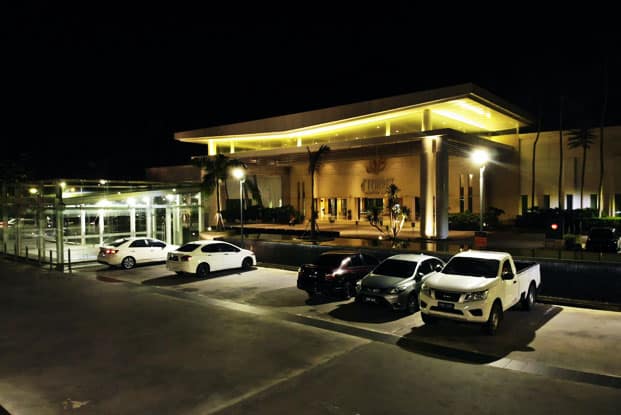 LED Post Top Light For Parking Lot Lighting In Malaysia
LED post top light for a Clubhouse Parking Lot Lighting Project in Malaysia was completed in 2019 with L Series Top Pole Lighting. LED post top lights, also known as post top led Lights or LED Top Pole Lights, are lighting fixtures designed to be mounted on the top of a pole or post. These lights are commonly used for a variety of outdoor lighting applications such as illuminating streets, sidewalks, parking lots, parks, and other public areas.

In order to meet the club's high-quality image and to enhance the overall ambiance and service quality of the club's parking lot, the club's management decided to carry out a LED post top light lighting retrofit to create a more high-end feeling and comfortable parking lot environment.
Client Feedback In This Project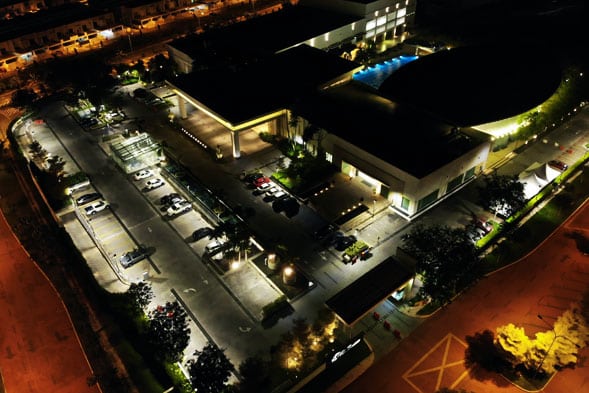 The Problem
Traditional fluorescent lighting is not bright enough, causing the parking lot to look dark, affecting the overall image and customer experience.
Traditional fluorescent lighting does not match the positioning of a high-end club and does not match the image of the club.
Traditional lighting has high energy consumption, which will increase energy costs and is not conducive to the club's image of energy saving and environmental protection.
The Solutions
According to the high-end positioning of the club, the parking lot lighting needs to use exquisite shape, material exquisite LED lamps, so that the lighting facilities and the club's architectural style and image of the integration, enhance the overall atmosphere and visual effect. After understanding the customer's needs, we recommend customers install the L series of multi-purpose LED street lights, an installation height of 3.5 meters, a European-style simple and stylish appearance design with the overall image of the club in line.

Compared with traditional lighting, this LED garden light reduces energy consumption by more than 50%, which saves a lot of energy expenses for the clubhouse and demonstrates its image of environmental protection and social responsibility. Such projects also support intelligent dimming and motion sensor dimming.
project Details
| | | | |
| --- | --- | --- | --- |
| Product | Model | CCT/ Optics | Quantity |
| 56w LED Post Top Light | ZGSM-LD56LMA | 5700K, TYPE III M | 158pcs |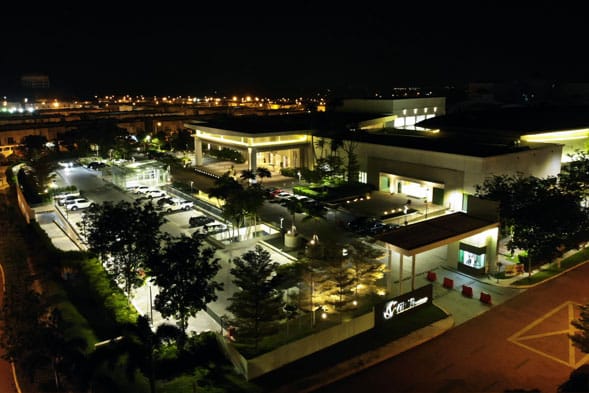 The Result
The club parking lot LED post top lighting renovation project has achieved obvious results, improving the overall image of the parking lot and the level of service, while saving energy and reducing operating costs, in line with the club's high-quality service and environmental protection concept. The elegant appearance is very suitable for club occasions, professional design of the lighting spectrum effectively reduces the surrounding light pollution and improves the brightness.

The final effect of the parking lot lighting makes the club owners and customers very satisfied. This successful case provides useful experience and reference for the lighting transformation of other high-end clubs, which helps to enhance their brand image and competitiveness.
ZGSM offers comprehensive lighting solutions
For various scenarios including street lighting, urban lighting, highway lighting, parking lot lighting, stadium lighting, sports lighting, factory lighting, warehouse lighting, gas station lighting, and tunnel lighting. Our solutions are designed to provide efficient and reliable illumination, enhancing safety and visibility in these environments.
Frequently Asked Questions
We know you might have more questions, so here's a list of the questions we get asked the most about LED Post Top Light.
Contact Us Right Now!
*Your privacy is respected, and all information is secure.