Illuminate Your Port with Stunning Sea Port Lights
ZGSM Lighting specializes in providing durable and reliable lighting solutions specifically designed for marine environments. Our seaport lighting fixtures are built to withstand the tough conditions of salt air, water, and mechanical impact, making them ideal for marinas and ports.
In a bustling shipping port, where the continuous flow of goods is vital, it is essential to have high-quality lighting to ensure safety and productivity. Our high mast LED flood lights offer excellent visibility, creating a safer working environment and allowing employees to focus on their tasks. Additionally, these lights operate efficiently day and night, resulting in significant long-term energy savings. By switching from traditional metal halide, HPS, and HID lamps to our LED fixtures, you can reduce your electrical bills by up to 80%.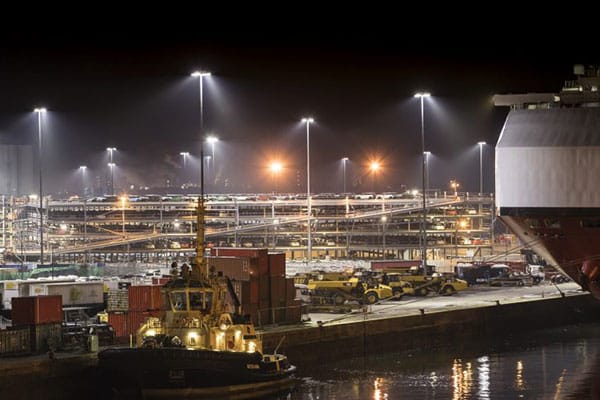 When it comes to marine environments, the harsh conditions require Port lighting fixtures with enhanced durability. At ZGSM Lighting, we take several factors into consideration to ensure our fixtures can withstand the challenges they may face. Our lights are designed with corrosion resistance to combat the effects of salt air and water. The enclosures are made with IK08 tempered glass, offering protection against mechanical impact and force. Furthermore, our fixtures have IP65 or higher sealing protection, safeguarding against foreign objects and moisture.
The following are some tests that our LED lighting products have passed to verify the performance of the products in corrosive environments.
ASTM B117: This is a standard published by the American Society for Testing and Materials (ASTM) and is one of the most commonly used standards for salt spray testing. It describes the procedures and conditions for testing using a salt spray cabinet and provides indicators for evaluating the performance of materials and coatings.
ISO 9227: This is a standard published by the International Organization for Standardization (ISO) and is a widely used salt spray test method. It provides similar test procedures and conditions to ASTM B117 and is used to evaluate the corrosion resistance of materials and coatings.
ASTM D3359: Also published by ASTM, describes the extent to which coating adhesion can be assessed using the scratch test method. It evaluates the adhesion performance of the coating by making cross scratches on the coating and peeling it off with tape, which is also closely related to the corrosion resistance of the product.

ZGSM Lighting is a trusted supplier of high mast LED flood lights for seaports. Our products are known for their durability and reliability in corrosive environments. We have a team of experienced engineers who can provide professional guidance and assist you in selecting the most suitable luminaires for your specific needs. Don't hesitate to contact our lighting experts now to discover the best lighting fixtures for your marine applications.
Let's explore the different types of sea port lights we offer:
High Mast Lighting:
Our LED high mast lighting fixtures are designed to replace traditional metal halide or HPS lights ranging from 400W to 2000W. With a warranty of 5 years, these lights are energy-efficient and produce over 100,000 lumens. Equipped with last-generation lenses, they offer a high lumen utilization rate of approximately 90%.
LED Flood Lights:
Our LED flood lights provide an aesthetically pleasing and well-illuminated look to piers and loading docks. We offer top-notch harbor lighting options that enhance the beauty of key areas within your port. These lights also play a crucial role in security. With high lumen output, optimized optical lenses, and a weather-proof frame, our LED port lights ensure long-term illumination with minimal maintenance requirements in port lighting.
LED Street Lights:
LED street lights are an excellent lighting solution for port docks and terminals, particularly for outdoor installations. By implementing our LED street lighting system throughout your port, whether on the exterior perimeter, decking area, seaside poles, or key cranes, you can significantly improve lighting quality. This upgrade not only enhances security and safety but also offers energy-saving efficiency.
If you require a high mast lighting system for container loading/unloading areas or storage facilities, we are here to assist you in every possible way. Our support executives are always ready to address your queries and provide expert advice to help you make informed decisions when purchasing LED lighting solutions, be it port lighting systems or LED street lighting systems.