LED Lights For Roadways Lighting
Bright ZGSM Lighting Flood Light Luminaires for Roadways Lighting and Road Construction
ZGSM Lighting offers bright, efficient LED roadways lighting luminaires that are the perfect solution to low visibility roads. Designed to fit high mast lighting fixtures, our LED Luminaires will provide the level of illumination you need to keep your roadway or road constitutions project properly lit.Each year, over 50,000 traffic accidents are caused by low visibility. Increasing the illumination of roadways lighting at night with the right lighting is one-way municipalities can lower this statistic and keep their populations safer.
Efficient Lighting Reduces Operating Costs
ZGSM Lighting offers LED Luminaires that will brightly illuminate the roadway even from high traffic light poles. Because of the design of our LED Luminaires, these lights are much more efficient than standard roadway lamps. By installing them on your roadways or parking lots, you will reduce your energy expenses by as much as 80 percent. In addition, the long lifespan of these LED Luminaires will mean less time and effort spent on traditional lighting replacement.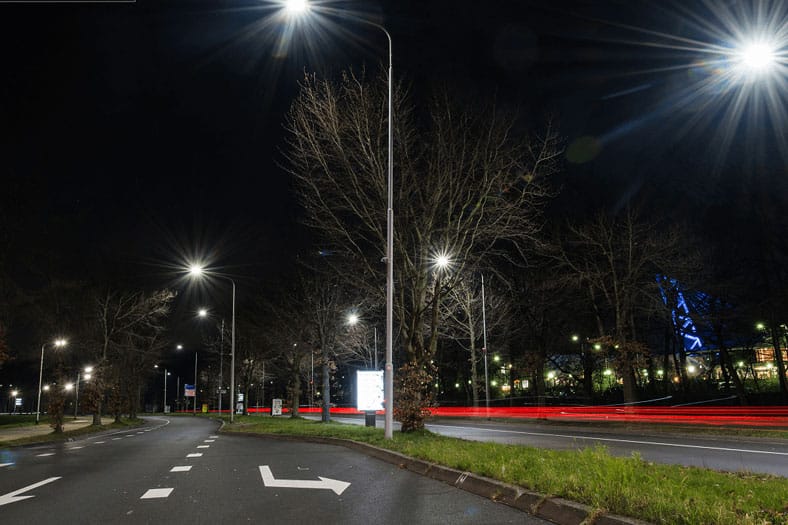 The Importance of Roadway Illumination
Why should you invest in ZGSM Lighting Luminaires for your roadways? Proper roadway illumination provides the following benefits:
Allow motorists to quickly identify objects or people in the roadway
Improve traffic movement even in poor visibility
Improve the ability for drivers to see details not shown with headlights
Improve navigation for pedestrians
Minimize glare and shadows
If your roadways could benefit from these, contact ZGSM Lighting to discuss LED Luminaire Solution for your roadways.
Improved Visibility with ZGSM Lighting
Not all LED Luminaires are created equal. ZGSM Lighting's signature design is specially created to reduce glare and improve color rendering for a bright, white light that is as close to sunlight as possible. This glare-free design will ensure adequate visibility on even the darkest night, bringing 140 lumens per Watt of bright, crisp illumination every single time they are on.
Reduce labor costs, improve visibility and lower your energy use all by making the switch to ZGSM Lighting Luminaires. Browse our available products today or contact us to see how ZGSM Lighting can light up your world, one street at a time.