Led Lights For Tunnels Lighting
LED Tunnel Light for effective tunnels lighting
Tunnels Lighting has some special difficulties. Tunnels are not only dimly lit and dark, necessitating strong lighting to be safe, but they are also continually polluted by vehicle emissions. Additionally, tunnels are known for being wet, which poses a challenge for many lighting solutions.
ZGSM Lighting offers a tested response to each of these issues. ZGSM Lighting is a great choice for your tunnels lighting requirements because they are built to perform well even in the most severe settings and have a wide beam angle and clear illumination.
Improved Safety with Bright, Effective Lighting
On a bright day, the sudden darkness that greets drivers as they approach a tunnel can make driving dangerous while they wait for their eyes to adjust. The probability of collisions is decreased and driver safety is increased when the tunnel is properly lit. With a colour rendering value of over 85, ZGSM Lighting is as close to natural sunshine as it is feasible to get in their class. Additionally, these lights provide brilliant illumination that accurately portrays colours thanks to their 140 Lumens per Watt output. The superior lighting makes tunnels more secure.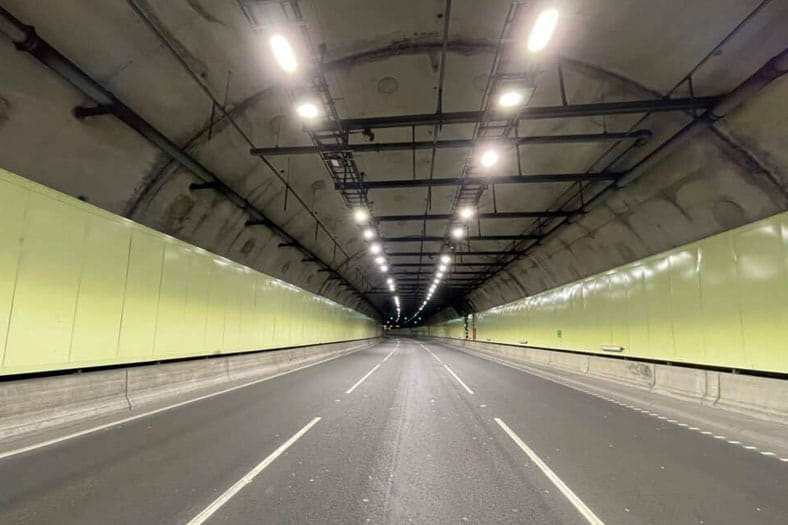 Shorter Closure Times Result from Longevity
Traffic jams are a given when it comes time to replace the lighting in the tunnels. Fewer times will you need to shut down traffic to change lights since ZGSM Lighting is among the most durable lighting alternatives. Additionally, ZGSM Lighting won't need to be replaced for a significant number of illuminated hours due to its durable design, which can tolerate corrosion, heat, and moisture. Make the move to ZGSM Lighting to save time, money, and hassle with long-lasting lighting.
With LED luminaires from ZGSM, tunnels lighting can be more affordable
Over 80% more effective than conventional tunnel lights is ZGSM Lighting. Municipalities and companies that switch to ZGSM Lighting for their tunnel lighting will save on energy costs in addition to labour and money spent changing bulbs and lamps. This is an important benefit because tunnels need constant lighting.
Roadway tunnels, rail tunnels, underpasses, and any other type of tunnel requiring strong, clear illumination can all benefit from ZGSM Lighting. With the aid of ZGSM Lighting, choose the luminaires that are ideal for your requirements today and start saving.