LED High Mast For Airport Lighting
Energy Efficient LED High Mast light For Airport Lighting
An airport lighting needs the proper illumination to be secure. To ensure that pilots can land safely, it is essential to illuminate all potential obstacles and the approach route clearly. Wide beam angles, less glare, and clear illumination are requirements for airfield lighting. In order to ensure optimum illumination in all weather circumstances, ZGSM Lightings have undergone extensive testing. This helps airports maintain proper visibility for both ground staff and pilots.
ZGSM Lighting's Energy Efficient Airport Lighting
The most energy-efficient lighting in its class is provided by ZGSM Lightings. With 140 lumens per delivered Watt, these effective Luminaires reduce energy costs by more than 80% in the majority of applications without compromising visibility or clarity. ZGSM Lightings are especially well-suited for the airport environment thanks to its combination of efficient lighting, excellent visibility, and effective lighting.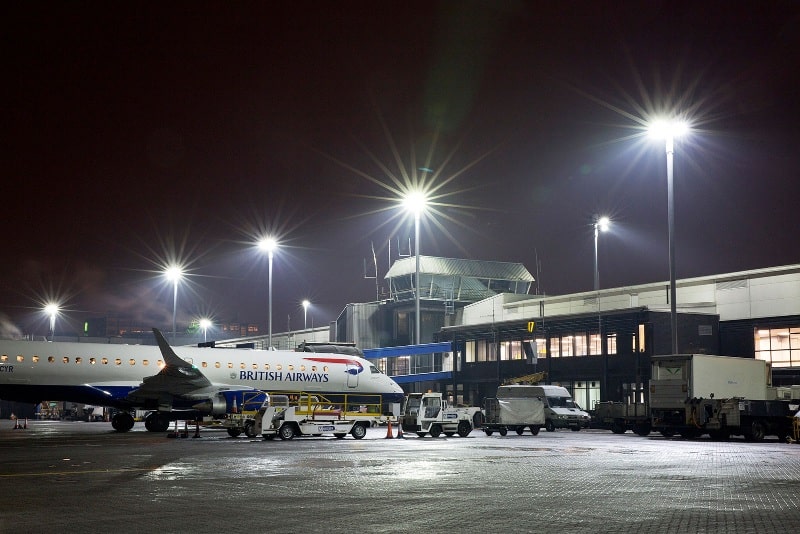 Reduce the time and money spent on replacements
One of the longest rated lifespan in the business belongs to ZGSM Lightings. The Airport Lighting Luminaires have a patented cross ventilation system that uses a proprietary thermal management design to limit the amount of heat inside the Luminaire. This is crucial since heat degrades LED Lighting, shortens a lamp's overall lifespan, and accelerates the loss of lumens.
Using this patented technique, ZGSM Lightings maintain a constant airflow, which keeps the internal electronic components cool and increases the Luminaire's lifespan. When you move to ZGSM Lighting, you will find that you spend a lot less time changing and maintaining lamps and fixtures because of the long lifespan of ZGSM Lighting in general.
This prolonged lifespan is crucial for applications at airports and airfields. In many situations, a burned-out bulb or fixture poses a major safety risk in addition to being an irritation. Pilots cannot see the runway well when a lamp burns out, which increases the likelihood of accidents. ZGSM Lighting options decrease the likelihood of light failure, saving you time, money, and labour when replacing burned-out lamps.

Use ZGSM Lighting to Make the Runway Brighter
The ideal choice for a modern airport lighting is ZGSM Lightings. With energy-saving LED luminaires from ZGSM Lighting, you can replace your outdated lighting and ensure proper visibility while saving money on maintenance and electricity.