Efficient and Safe: Revolutionizing Industrial Warehouse Lighting with LED Solutions
ZGSM Lighting offers innovative solutions for industrial warehouse LED lighting, ensuring significant energy savings and eliminating maintenance concerns. Whether it's a new construction project or the retrofitting of an existing space, our lighting solutions guarantee excellent lighting conditions, including uniform light distribution, high visibility, visual comfort, and glare-free illumination.
Energy Efficiency
Industrial warehouses and logistics departments often face high energy consumption costs. By replacing traditional lighting with ZGSM Lighting's modern LED technology, businesses can achieve up to 60% cost reduction and a rapid return on investment. We assess each customer's specific needs and provide guidance on optimizing the lighting plan with our industrial interior solutions, maximizing energy savings.
Visual Comfort
Industrial interiors typically feature narrow corridors and tight passages. Adequate LED lighting in warehouses enhances safety by reducing the risk of accidents and injuries. Our LED luminaires are designed with optical systems specifically tailored for visual comfort, ensuring the well-being and concentration of workers in industrial environments.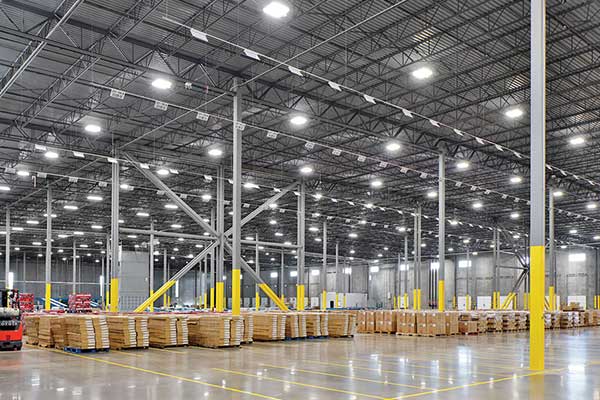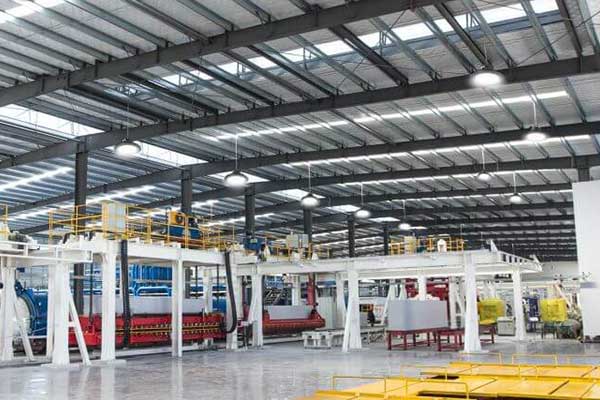 Pollutant-Free
ZGSM Lighting's sustainable LED luminaires are an ideal alternative to traditional high-pressure sodium (HPS) lighting. Our LED floodlights are completely free of pollutants like metal halides and sodium vapors, making them environmentally friendly and easy to dispose of.
Choose ZGSM Lighting for Industrial Warehouse LED Lighting
Cost Reduction and Increased Productivity
Opting for efficient LED industrial lighting yields significant benefits. Lighting costs typically represent about 80% of total expenses in industrial warehouses. Monitoring and optimizing these expenses become crucial, and our LED solutions provide substantial savings while increasing productivity.
ZGSM has been committed to the development of high-efficiency factory lighting products, with the goal of saving energy. By using high-efficiency power supplies and LED lamp beads, we develop and produce lamps that provide excellent lighting effects to minimize energy consumption. In order to ensure that our lamps meet the relevant standards, we follow the EN12464-1 standard to carry out simulation tests to ensure that the required illuminance levels are provided in a given work area (including workshops, processing plants, warehouses and restrooms, etc.).
By combining the size of the work area, type of activity and task requirements, we are able to select the proper wattage and light output to meet lighting needs. These ensure that our products provide the correct lighting to increase productivity, while it also helps to reduce electricity costs.
Workplace Safety
LED lighting ensures a safe and comfortable working environment. Industrial warehouses with limited windows and high shelf structures require high visibility for swift and secure movement. ZGSM Lighting's industrial warehouse LED lighting fixtures offer optimal visibility and visual comfort, promoting workplace safety and employee well-being through high-quality lighting.
Enhanced Well-Being
ZGSM Lighting's industrial warehouse LED lighting fixtures create welcoming and comfortable workspaces, significantly improving the overall well-being of employees. Visual comfort is a fundamental requirement in any workplace, and lighting plays a crucial role in people's perception and state of mind. Our lighting solutions provide visual clarity, eliminate glare, and contribute to a positive work environment.
Upgrade your industrial warehouse lighting to ZGSM Lighting's LED solutions and enjoy the benefits of energy savings, enhanced safety, and improved well-being.